Inter-Sprint builds up one-stop supply focus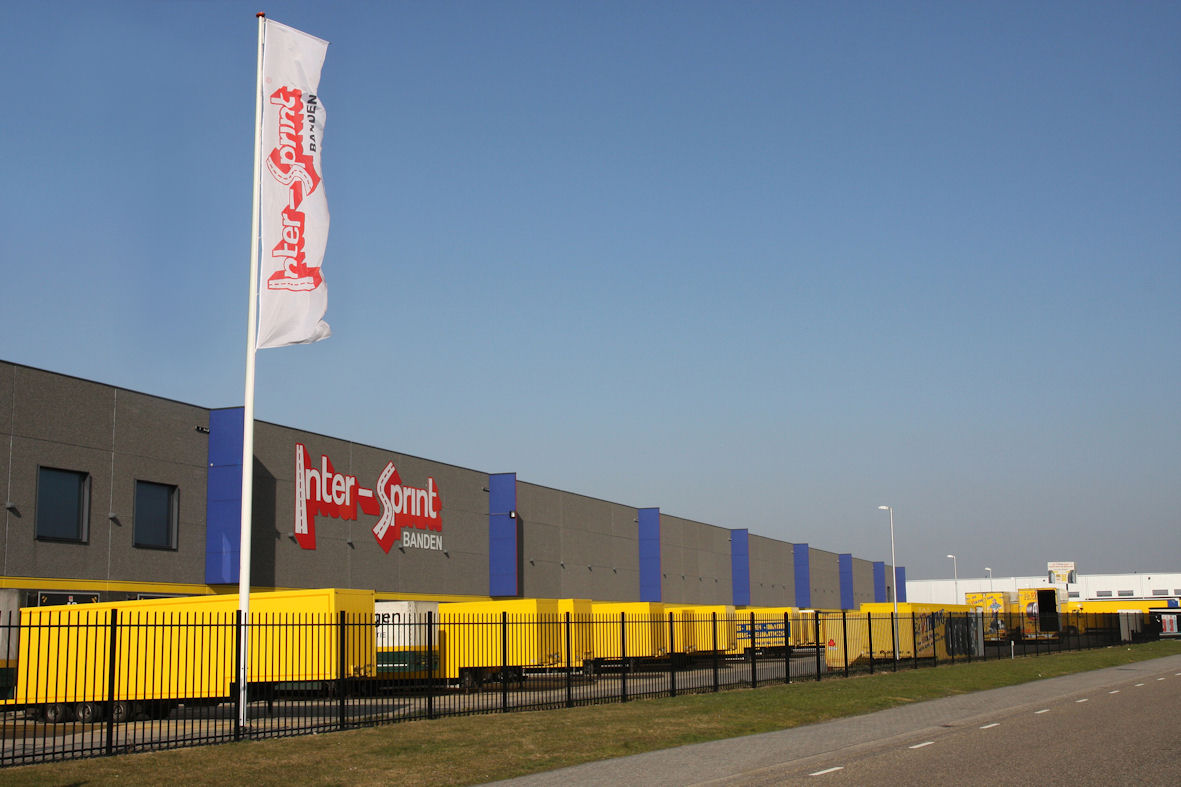 A recurring theme encountered when talking to tyre wholesalers in 2015 and 2016 is the importance of value-added services. Each wholesaler has its own strategy for delivering this added value; in the case of Inter-Sprint, it involves a focus on acting as a "one-stop tyre partner." This is a direction the Netherlands-based company has followed for some time now, and it is taking steps to ensure its customers can benefit from this in the years to come.
Inter-Sprint's value-added strategy began with a promise, shares marketing and communications manager Ton Ketelaar. "We told our customers years ago that they don't need their own stock – we said we'd be their stock. Our customers trust us to deliver what we promised, and they make maximum use of this." Acting as a reliable substitute to customers' own warehousing is no small feat, however. Anticipating which products customers will need and demand is a task that requires Inter-Sprint to constantly review and build up its own stock.
"We've now expanded the range in our warehouse to cover 15,000 different products, and we are increasing tyre stocks from 2.5 million to more than 3 million pieces," Ketelaar tells Tyres & Accessories. "We're doing this as we want to meet our customers' entire tyre needs, so that they don't have to buy from several sources." Keeping more than 3 million tyres in stock requires space, and the wholesaler is currently preparing to open another new warehouse near its existing facility; this should be operational before the end of 2016.
Ketelaar calls Inter-Sprint's product portfolio the "largest and most complete stock of tyres in Europe." The ranges the wholesaler supplies cover the entire passenger car and light commercial vehicle market from premium to budget, and includes a number of exclusive and private brands. Truck and OTR tyres, along with alloy and steel wheels, can also be found within the company's warehouses in the Moerdijk Business Park, however consumer tyres account for most of Inter-Sprint's turnover.
Mastersteel and Delinte
An important private brand for Inter-Sprint is Mastersteel, and the range of Mastersteel tyres now available to customers is very different to that sold in past years. "We completely renewed the Mastersteel brand in 2015 and reintroduced it to the market," explains Ketelaar. "The total assortment has been renewed and developed to the latest technical standards. Everything is new, including the compounds and the tyre profiles." This renewed Mastersteel range is produced by the same partner in China that manufactures Inter-Sprint's Delinte exclusive brand, and plans are in place to rapidly expand the range throughout this year and 2017. "The new products are selling well, I believe Mastersteel sales are above the average market trend for this brand segment."
While Inter-Sprint doesn't supply Mastersteel tyres in all markets where it is active, the UK is one country where it does sell the brand. "Price-wise, Mastersteel is positioned in the budget segment, but product quality is above budget," comments the marketing and communications manager. "The same applies for Delinte."
The Delinte brand gained a boost last year when the Thunder D7 summer tyre finished in the top three of AutoBild's test of ten tyres from China, and was judged to offer the best wet grip within the group.
Recent extensions to the Delinte portfolio focus on all-season products and include the introduction of a dedicated light commercial range, the AW-5 van. This adds to the existing Delinte AW-5 all-season car tyre range; the growing Mastersteel line-up also features all-season products.
Sales of both brands of all-season tyre are on the rise, and Ton Ketelaar believes demand for all-season rubber bearing the 3PSMF (three peak mountain snowflake) mark will continue to grow if Europe continues to experience winters similar to those in the past few years. "Winters like the one we've just had are good for all-season tyre sales, I think they'll become popular products."
Logistics, IT upgrades pay off
Warehouses containing several million tyres help Inter-Sprint a long way towards the aim of being its customers' stock, but when dispensing with their own stocks, tyre dealers need an absolute confidence in Inter-Sprint's ability to supply the tyres they require within the expected timeframe, even if they only need a handful of tyres on any given day. "Bulk orders were standard in the past, but when our customers treat our stock as if it were their own, then it is necessary to process smaller orders of two or four tyres. We do this a lot now." While Inter-Sprint's own fleet of around 50 trucks is responsible for delivering larger orders, the wholesaler maintains agreements with a number of European transport companies for the shipment of smaller quantities. An express service is available for urgent deliveries, however standard freight times are 24 hours for Benelux countries and 48 hours further afield in Europe. "We can even offer 24 hour delivery (in the Benelux region) for unusual dimensions," Ketelaar adds.
Small-sized deliveries are an entirely different animal to shipping in bulk, and Inter-Sprint quickly discovered that handling these in the traditional manner wasn't cost effective. "You can't wrap and dispatch individual tyres by hand, it is too expensive," says Ton Ketelaar. "We used to load trucks entirely by hand, but we have invested in new conveyor belt systems with booms that can be positioned directly within a truck and transport tyres dispatched by computer. Each tyre has a barcode sticker affixed, and based on the barcode the computer always sends the right tyre to the right truck. This new system is much faster and accurate than loading by hand, which means the upgrade pays for itself."
Ketelaar believes the current practice of shipping small quantities within 24 or 48 hours will remain the industry standard for the time being, however he is well aware of the market's ability to surprise. "Online retail portals such as Amazon now offer same-day deliveries for orders placed before midday, and while I don't think this is something for the tyre industry, you never know what people will want." He adds that well-organised workshops don't, as a rule, need tyres within one or two hours of placing an order.
Standing behind every efficient logistics system is a team of IT and support staff. This is certainly the case at Inter-Sprint, which has its own ICT department that employs eight IT people for software development and support. "All our logistics software and e-commerce solutions are designed in-house," shares the marketing and communications manager. "You must have fast response times if you want to be ahead, and it takes too long to buy and then adapt out-of-the-box solutions. We can be very fast when responding to the market."
Customer relationships more important than ever
While discussing Inter-Sprint's e-commerce solutions, Ketelaar observes that most customer orders go through the company's online system these days. While this offers the advantage of 24/7 ordering availability, he notes that extra effort is required to maintain close relations with customers. "Ten years ago, we might have spoken with a customer several times a week, now there are very few contact moments. We need the right staff in order to take care of relationships with our customers and to understand how we can best meet their needs. This is something that online resellers can't offer."
Maintaining customer relationships also returns a hint of opacity into today's transparent pricing. Anyone can go online and find a reseller offering a tyre for a pound or euro less, but Ketelaar points out that having a product delivered isn't the only thing that counts. "What happens when you have to exchange it or you need support? It's not always possible to match internet prices, therefore possessing unique selling points is now much more important than several years ago. The majority of customers appreciate the extra mile we can go for them. We have our own stocks and can guarantee delivery, and it is worth paying a little more for this."
A high percentage of Inter-Sprint customers have been with the wholesaler since day one or, to use the local expression, are "customers of the first hour." But decades of goodwill alone aren't enough to secure a company's future. Ton Ketelaar says the "circle has to be closed" – all aspects of the organisation, from stock and logistics, to staff – have to be in order. "And you must always look ahead to see how you can make things better for your organisation and for your customers.
"You have to keep organised," he adds. "Be one step ahead. We have to quickly adapt to changes in the market, try to stay ahead and not be surprised by anything. Our level of adaptability must be very high."