Automechanika Birmingham to support BEN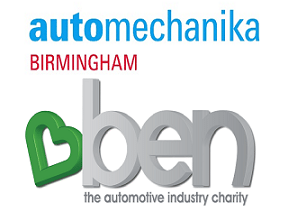 The inaugural Automechanika Birmingham exhibition, to be held at the NEC, will be supporting BEN, the automotive industry charity. The event organisers will provide BEN with stand space free of charge and will support the organisation's fund raising and awareness-building efforts with additional related facilities throughout the show.
BEN has a long history of participating in leading automotive consumer and trade exhibitions and the organisation is delighted to become involved in an exhibition which has attracted 550 UK and international exhibitors.
BEN chief executive, David Main said, "We are so very pleased to have been able to establish a relationship with a UK automotive trade event that is proving to be so popular both in terms of exhibitors and the potentially visitors. The work of BEN never stops and we constantly look for opportunities to raise funds so we can support more people within the automotive business who are facing difficult challenges, helping them to get back on track."
"We are delighted to offer help to BEN", said Event Director, Simon Albert. "We are very aware of the huge amount or work and care that the charity delivers to the many individuals in the automotive industry in its widest sense. We will work closely with BEN to raise as much money as we can."
Visitors planning to attend the inaugural event, to be held from the 7th to the 9th June, are now able to register for free by visiting the website www.automechanika-birmingham.com. The site also contains full details including a visitor brochure containing comprehensive and valuable information on the exhibition and related activities, such as the seminar programme.