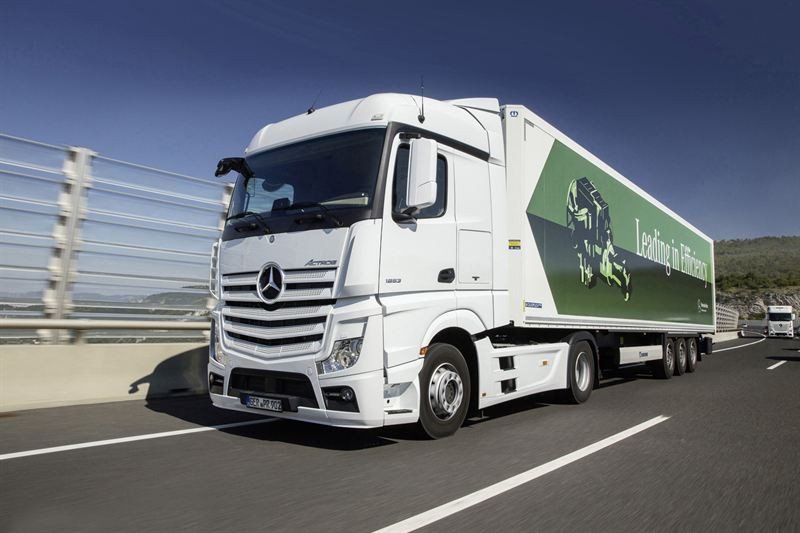 The Michelin 385/55 R 22.5 X Line Energy F steer and 315/70 R 22.5 X Line Energy D2 drive tyres are available as an Actros OE option from January
Michelin has unveiled two new tyres in its fuel-saving X Line Energy range and named Mercedes-Benz as a launch customer after the manufacturer approved the fitments for its Actros heavy truck. The Michelin 385/55 R 22.5 X Line Energy F steer and 315/70 R 22.5 X Line Energy D2 drive tyres will be available for customers to specify as original equipment for Actros trucks shipped from January 2016.
The tyre maker promotes its X Line as an energy-efficient tyre range and says the new tyres are "ideally suited" to use on the Actros, a truck designed from the ground up to be dedicated to long-distance transport. Michelin points out that when operated in conjunction with a trailer featuring its current X Line Energy T tyres, all axle positions can be fitted with tyres that have obtained 'A' rating for fuel efficiency in line with EU tyre labelling standards – and this is a first, the tyre maker adds.
"The low rolling resistance offered by Michelin's X Line Energy range is a perfect fit for Mercedes-Benz's Actros, and we're certain the tyres will help the truck hit its goal of delivering fuel-efficient long-distance mileage," comments Guy Heywood, commercial director UK and Republic of Ireland at Michelin. "Customers that select the Michelin tyres for their new Actros will also enjoy the safety, durability and reliability inherent to every Michelin tyre, as well as excellent on-road performance and traction. Plus, as the tyres are both retreadable and regrooveable, customers can benefit from excellent mileage performance, while enjoying a low total cost of ownership."
The X Line Energy F steer tyre in its new 385/55 R 22.5 size benefits from an innovative circumferential 'raindrop sipe' tread pattern, which evolves in the last one-third of its life to help generate grip levels close to that offered when the tyre was newly fitted. This new tyre also incorporates Michelin's anti-splash technology, pioneered by Michelin for aircraft tyres, which is designed to dramatically reduce the projection of high water from the sides of the front axle tyres in wet weather.
The latest generation X Line Energy D2 drive tyres also feature Michelin's 'Tower Pump' sipes, which improve braking and transverse grip on wet surfaces by temporarily storing the water in the contact patch. These tyres stand out in the marketplace for being the only heavy truck drive tyre on the market with an 'A' rating for rolling resistance.
Category: Product News