November is riskiest month for pedestrians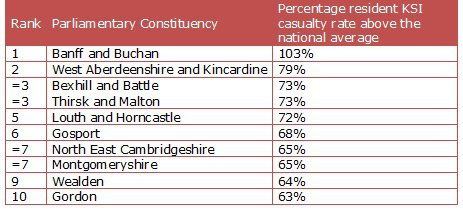 New analysis from Direct Line Car Insurance and PACTS (an All-Party Parliamentary Group) reveals pedestrian casualties on Britain's roads peak in November each year. Reviewing the available monthly road casualty data, from 2010-2014, the average number of reported serious pedestrian casualties rises from a low of 397 in August to a peak of 565 in November, an increase of 42 per cent. Furthermore, pedestrians account for more than a quarter (26 per cent) of serious injuries each November.
Car occupant casualty rates also peak in November, with an average of 832 serious injuries to drivers and their passengers in this month. Reviewing the available casualty statistics from the last five years, there are an average of 2,135 people killed or seriously injured on Britain's roads in November. Of great concern is the fact that people aged 16-24 account for 24 per cent of the casualties on Britain's roads over the course of the month.
Gus Park, director of motor at Direct Line commented: "November is truly a bleak month for road casualties, with pedestrian and car casualties higher than any other point in the year. Road users need to be especially vigilant as the nights get darker earlier following the clocks change. We hope this analysis will spur the authorities to take immediate action, investing in education campaigns highlighting the distinct challenges of navigating the streets in the autumn and winter. The disproportionate number of casualties among young people travelling in cars highlights the urgent need to find new and engaging ways to reach these audiences and warn them of the dangers on the road."
David Davies, executive director of PACTS added: "The risk to road users is heightened in November as people travel more in periods of darkness. PACTS wants to see our roads and vehicles made safer for all road users so that small errors don't result in death or life-changing injury. We now have the technology and understanding to do this. We need to get on with it. "
The analysis comes as Direct Line and PACTS publish the latest update of the Constituency Road Safety Dashboard. This index calculates the casualty rates for residents of each parliamentary constituency in Great Britain relative to the local population. The analysis reveals residents of Banff and Buchan constituency in North East Scotland have the highest annual casualty rate in Britain. The constituency has a resident casualty rate – for those killed or seriously injured on the roads – 103 per cent higher than the national average.
The constituency of West Aberdeenshire and Kincardine comes second highest in the index for all KSI casualties with a result 60 per cent above the national average. The higher index areas appear more rural in nature and are more common in Yorkshire and North East England. These are communities that are likely to be reliant on cars for transportation, but may also have roads that allow drivers to travel at faster speeds on unlit rural roads with bends and greater risk of run-offs or head-on impacts.
Bath, meanwhile, is the safest constituency relative to the national average, with nearly half as many serious incidents per year. However, five of the ten safest constituencies – Stafford, Newcastle-under-Lyme, Stretford and Urmston, Lichfield and Cheadle – are based in the corridor between Birmingham and Manchester, suggesting a strong driver safety awareness push in the area.
London leads the way in casualty reductions
When looking at the constituencies with the greatest reductions in resident KSI casualty rates, relative the national average, London features prominently, with six of the constituencies (Eltham, Erith and Thamesmead, Lewisham West and Penge, Bexleyheath and Crayford, Ealing North and Sutton and Cheam) hailing from the capital. This implies a successful effort in these constituencies to improve road safety and reduce the deaths and serious injuries.
Strategies for further improving road safety can only be developed if those formulating these policies including MPs and civil servants have access to authoritative data. The Constituency Road Safety Dashboard developed by Direct Line and PACTs provides a vital tool in helping improve the safety of Britain's roads, by highlighting variances in road casualties by Parliamentary constituency.
The main contributory factors affecting deaths and serious injury on the roads can be divided into three main categories:
Driver behaviours, including speeding, drink and drug driving, non-use of seat-belts and use of mobiles behind the wheel
The safety quality of the road network itself and the vehicles using it.
The performance of the emergency medical system and trauma care within a specified region.
PACTS is an All-Party Parliamentary Group and a registered charity bringing together safety professionals and legislators to identify research-based solutions to transport safety problems.