Mexican carrier lauds Vipal product performance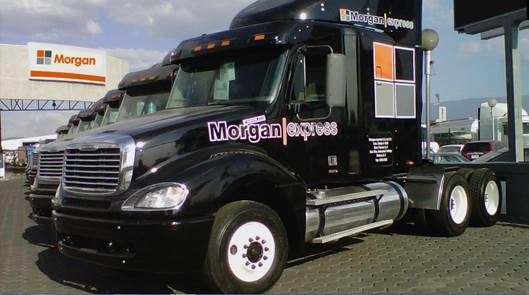 Mexican carrier Morgan Express says ti achieved reductions by retreading over 800 tyres from its fleet with Vipal materials. Morgan has over 40 years of experience in the logistics markets, with facilities in five Mexican cities (Guadalajara, Monterrey, Nuevo Laredo, Veracruz, and Mexico City). The company, which has a fleet of around 150 vehicles, retreaded over 800 heavy duty tyres in 2014, using Vipal's VEL B and V167 B treads.
Morgan's intention was to cut expenses while maintaining performance and safety. "By using Vipal products we achieved our goals, reducing costs and maintaining the high quality standard," says Fernando Ganem, general director of Morgan. He also stressed the importance of the preventive maintenance programme implemented by the company.
Moreover, the chosen retreaders also play a decisive role in the process. Morgan used the services of Vitalizadora Guzman, from Aguascalientes, and Renovadora Mestizo, from Mexico City. Both are part of the Vipal Authorised Network, the largest in Latin America with 300 member retreaders, with 225 of them in Brazil. As part of the Vipal Network, the two companies were able to offer a standardised service, and as a result, an end product marked by quality and excellence.
To Vipal, examples such as Morgan are crucial for increasing development of the tyre retreading industry. "We are always looking for new ways to increasingly disseminate knowledge about tyre retreading," says Vipal's marketing manager, Tales Cardoso Pinheiro. "For this reason, when a customer emphasises their satisfaction with retreading their fleet's tyres with Vipal products, we feel that it is important to share these results."
Vipal raised its flag in Mexico, a country in which the company has a Distribution Centre and a branch office, in addition to a permanent regional team and a network of 14 authorised retreaders in 2004. For strategic reasons, in 2013 Vipal dedicated one of its three plants in Brazil solely to production for the international market. Also, in order to support the growth in exports, it recently opened its third Distribution Centre in the United States, located in the city of Los Angeles, California, with storage capacity for 1500 pallet positions, thereby covering the entire North American West Coast and some Midwest states, as well as the Western and Central regions of Canada. The company also has a branch office in the United States, the world's largest market for tyre retreading.