Difficulties in Russia drag down Nokian Tyres' Q1 2015 net sales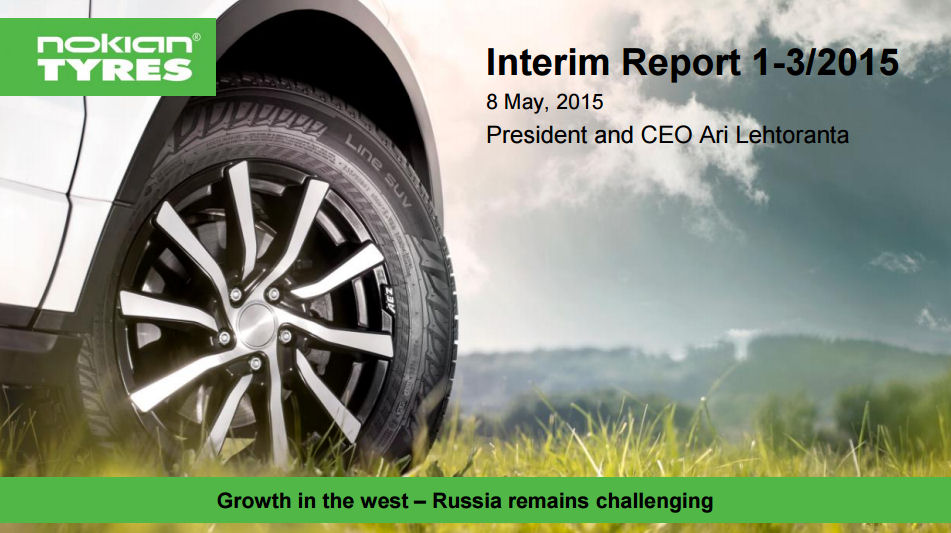 Although it enjoyed growth in Western markets during the first quarter of 2015, Nokian Tyres reports that its business in Russia "remains challenging". The tyre maker's 9.9 per cent year-on-year decrease in net sales to €281.3 million was driven by a 43.9 per cent decline in gross sales in Russia and the CIS. Operating profit dropped 29.4 per cent to €48.3 million and profit margin contracted from 21.9 per cent to 17.2 per cent. A windfall meant good news on the bottom line, however; the annulment of a previous tax ruling meant the company was able to return taxes and interest of €100.3 million to its financial result. Therefore profit for the three-month period rose 249.3 per cent from €38.7 million in Q1 2014 to €135.3 million this year.
While Russia was Nokian Tyres' most significant region a year ago, accounting for 41.9 per cent of the company's gross sales in the first quarter of 2014, by the opening three months of this year its contribution was only 26.7 per cent of total gross sales, relegating it to second place on the market size table behind the Nordic countries (38.7 per cent of gross sales). "The end of the year 2014 was very volatile in Russia," commented Ari Lehtoranta, Nokian Tyres' president and CEO. "Oil price, rouble valuation and purchasing behaviour changed on a daily basis, following the slightest moves in geopolitical and economic environment."
Lehtoranta stated that the situation in Russia has "somewhat stabilised" and performance in the first quarter of 2014 went "according to our plans." He reported that the largest negative impacts during the three months came from currency valuations and a delay in the start of winter tyre sales in Russia. Market share was also lost due to a consumer shift towards cheaper brands; the CEO and president commented that the sell-in volume for A and B segment tyres in Russia is estimated to have decreased by 20 per cent in the reporting period.
The news wasn't all bad. Lehtoranta added that "while the whole market has gone down in Russia and CIS, we have been able to improve market share, volumes and margins in all other markets. This is due to our competitive product portfolio, expanding distribution, improved productivity and excellent people." One particular region where market share shot up was North America. While it is still the smallest of the four areas where Nokian Tyres is present, the company's gross sales jumped 49.0 per cent year-on-year and now account for 13.7 per cent of the total.
Sales by segment
Net sales of Nokia Tyres' passenger car tyres declined 15.9 per cent year-on-year in the first quarter of 2015, and accounted for 69.1 per cent of total net sales. Nokian says this drop in net sales was mainly pushed along by rouble devaluation and a clearly lower sales volume in Russia. Sales volume increased in all other main market areas, with the strongest volume growth taking place in North America. The average passenger car tyre selling price decreased, principally due to currency rate devaluations. The sales mix was also negatively affected by the share of winter tyres in the mix, and decreased from 62 per cent to 58 per cent.
Heavy tyre sales grew 8.8 per cent and were 12.5 per cent of total sales, with demand remaining on a good level for core product groups in Western markets. Forestry tyre sales were up 14 per cent and agricultural tyre sales also showed positive development. North America was again the region with the greatest growth, but on the other side of the coin Nokian says sales in Russia and the CIS were "penalised by currency devaluations against the euro."
Net sales from the company's Vianor retail network rose 11.2 per cent year-on-year, and represented 18.3 per cent of total sales. At the end of March 2015, a total of 195 equity-owned outlets in Finland, Sweden, Norway, USA, Switzerland and Russia belonged to the Vianor network, nine outlets more than a year earlier. Nokian is in the process of switching its operating model from a focus on tyre sales to full car service, a transformation it is achieving by acquiring and investing in vehicle service centres. The company states that at the end of the review period a total of 59 car service operations had been acquired and integrated with existing Vianor stores in the Nordic countries.
The great majority of Vianor outlets – 1,176 of the network's 1,371 sites – continue to be run by franchisees. Seven new franchised outlets joined the network during the quarter. Vianor now operates in 27 countries, mostly in the Nordic region, Russia and Ukraine, and Nokian also operates two further networks: Its softer partner model, Nokian Tyres Authorized Dealers, expanded by 61 stores in the first quarter and now totals 930 outlets. Nokian Tyres Authorized Dealers has its greatest presence in Italy (296 outlets), Germany (202 outlets) and Ukraine (199 outlets). Outside of Europe, 58 outlets operate in China. A new partner network, N-Tyre, is also now operating and possesses 67 outlets in Russia and Kazakhstan.
Improvements in market position expected
Looking ahead to the full year, Nokian Tyres expects its market position to improve in all markets. Sales volume is expected to decline in Russia and the CIS, but less than the overall market. Raw material costs are estimated to decrease by five per cent, and Nokian says the pricing environment for 2015 will remain tight for all tyre categories. "Even if the market development visibility in Russia and CIS is still poor at the moment, we remain confident about our future," concluded Ari Lehtoranta. "We reiterate our guidance for the year and feel positive about the growth opportunities for the future."
Full details of Nokian Tyres' Q1 2015 results can be found in our company profiles and reports section.