Tyrexpo Asia | 24/03/2015 – 26/03/2015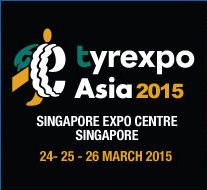 The organiser of Tyrexpo Asia 2013 recorded a "substantial increase in visitors" at the last show in Singapore. Exactly 4,355 individual visitors from 97 countries attended the trade exhibition held at the Singapore Expo Centre between 19 and 21 March 2013, an increase of 22.5 per cent in comparison to the 2011 show's prior record. Exhibitor numbers at the 2013 show were 64 per cent higher than two years ago, with 250 suppliers displaying their products.
The next Tyrexpo Asia takes place again at the Singapore Exp Centre, between 24 and 26 March 2015.
http://www.eci-international.com/asia.html