Autopromotec 2015 tyre space sold out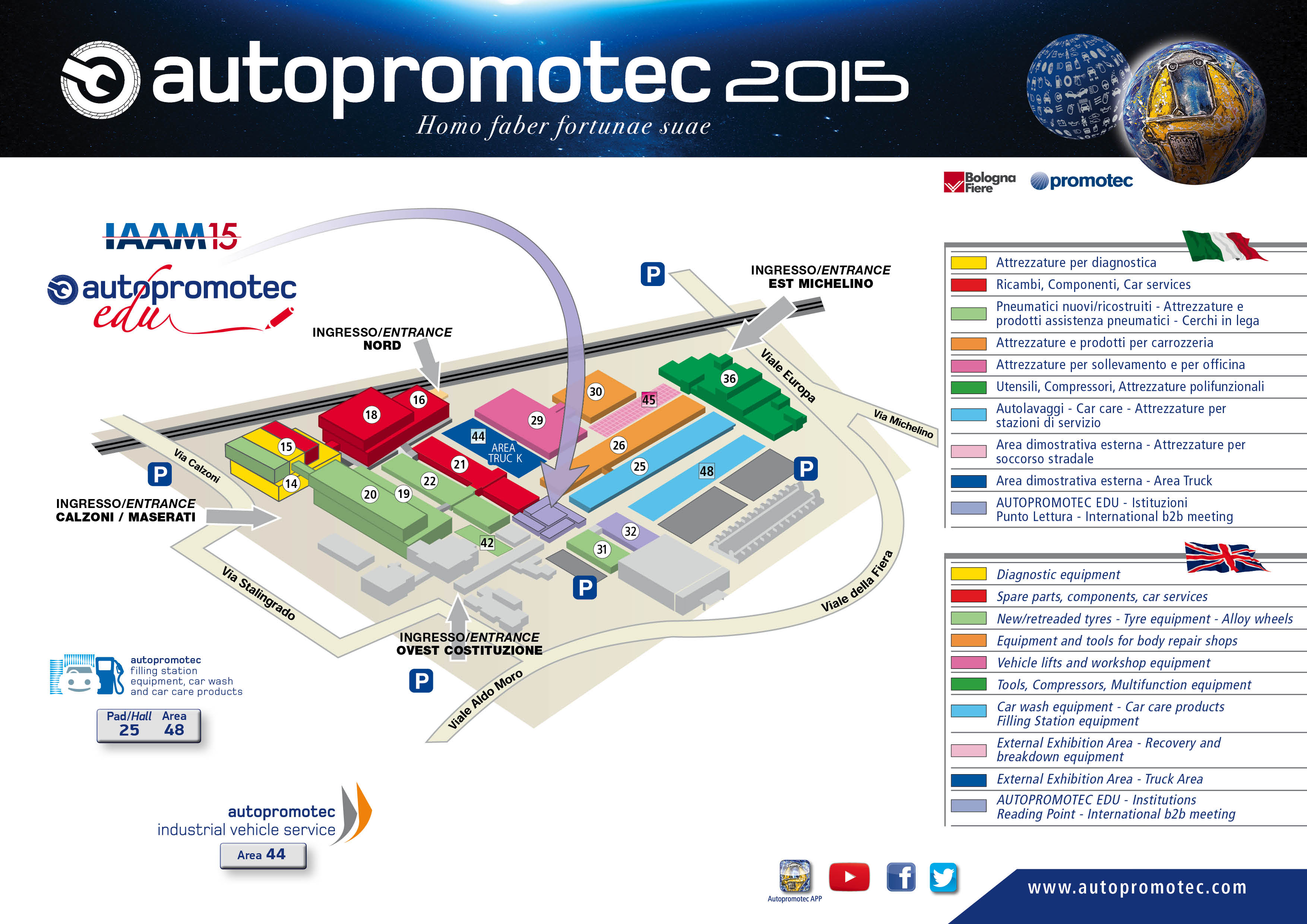 10 per cent more exhibitors and twice as many international buyers expected
With Autopromotec 2015 kicking off in just a few months, the show's organizers have confirmed that the space allocated for tyres and tyre equipment has already sold out. In addition the show, which will be held in Bologna, Italy from 20 – 24 May, is said to have witnessed a positive trend in terms of exhibitors and international trade delegations.
According to Promotec Spa, there have been significant increases in both exhibitors and the numbers of foreign delegations sending personnel to the show. In practical terms this means there are already 10 per cent more exhibitors and twice as many international buyer delegations expected. These are said to be coming from "every corner of the world". With registrations still in progress (and therefore the suggestion that these metrics could increase further remains), Promotec representatives suggested that the growth comes by virtue of "targeted and well-conducted international promotion activities that have been undertaken over the years and have intensified over the past few months…Autopromotec has now become a must-see event for the commercial activities of Italian and international exhibitors and visitors alike."
In order to offer the best demand and supply  solutions for each country, and to confirm the increasing international orientation of the show, many international exhibitors will be grouped in country pavilions, with wide exhibition spaces hosting leading countries in the international automotive scene, such as Argentina and Brazil. Moreover, an area devoted to Turkish companies will be featured for the first time ever, an important project developed in collaboration with OIB – Uludag Automotive Industry Exporters' Association – will involve 11 companies and will be hosted in Hall 21.
As far as foreign delegations are concerned, Autopromotec 2015 is poised to arouse great interest. Due to agreements signed with several institutional and private partners there are already 24 confirmed delegations coming from all continents. In detail, thanks to a renewed agreement with ICE – the Italian Trade Promotion Agency – delegations from the USA, Mexico, Kazakhstan, Lebanon, Morocco, Qatar, UAE, South Africa, Saudi Arabia, Korea and Japan will be visiting Autopromotec. Another agreement with ICE is being considered for approval, which will promote further expansion into other markets with appropriated funds for big international trade shows.
Collaboration projects with private consultants, co-financed by the Emilia-Romagna region, have resulted in trade professionals coming from such emerging countries in Southeast Asia as Thailand, Vietnam and Indonesia, as well as from Turkey. The cooperation with the Italian Chambers of Commerce of Rio Grande do Sul and the Republic of Argentina will bring an Argentinian and a Brazilian delegation to the show. An important role was also played by Unioncamere Emilia-Romagna, whose ongoing collaboration has yielded delegations from Bulgaria, the Czech Republic, Estonia, Lithuania, Poland, Romania and Slovenia.
All this is expected to result in increased footfall. As Autopromotec 2015 International PR Consultant, Margherita Balletta, told Tyres & Accessories, "In terms of visitors we expect an increase again over 2013 figures (we had 102,536 visitors, 18,942 of which were foreigners) especially thanks to the major international promotion that was carried out in the past year and to the presence of buyers delegations coming this year…".
The 2015 show is likely to reflect the technological advances that are now being seen across the entire automotive aftermarket industry. For example, new vehicle inspection regulations will require major technological updates from operators; TPMS introduction is rapidly turning tyres into "intelligent" elements with the wider car infrastructure, leading tyre professionals to work with software and electronic tools. Info-mobility systems keep evolving at a fast pace. As a result many such innovations from this new and particular field will be featured at Autopromotec 2015. Other examples include new emission standards which are, in turn, stirring up the market for fuel efficiency.
So in summary, as the show's international spokesperson Margherita Balletta, said in communication with T&A, "…three main concepts stand out, the point of strengths of the show will be – internationalization, specialization and high quality of the showcased products."