The hard work of taking a holiday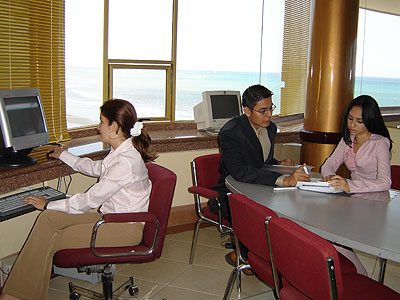 A study carried out for Kwik Fit Mobile suggests that almost half of us take our work with us when we go on holidays. When adjusted to fit the 30.6 million people in the country's workforce, the ICM survey of 2,003 adults in the UK shows that this 46 per cent of the workforce spends an average of 5 hour and 24 minutes of holiday time a year on work-related activities – a total of 3,171,550 days of extra work.
Although female workers were less likely than men to spend vacation time working, with 42 per cent stating they'd work during their holiday compared with 50 per cent of men, those women who did catch up with work spent longer doing so. The average holiday time women spent on work last year was 6 hours 22 minutes, compared to 4 hours 19 minutes for their male counterparts.
The research also found that work has an impact on where 25 per cent of UK workers go on holiday. 15 per cent said they need to have a good wi-fi or internet service whilst they're away, 11 per cent need a good mobile signal, and four cent will only vacation in hotels which also have good business facilities. For some there are even greater restrictions – three per cent say they will only stay near an airport when travelling abroad, while the same proportion say they will only holiday in the UK in case they have to get back to their place of work quickly.
"This research shows that many people find it hard to leave work behind when they head off on holiday," commented Roger Griggs, communications director at Kwik Fit. "With today's technology, staying connected is getting ever easier and it can be a real benefit, as long as it doesn't stop people enjoying their valuable time away.
Griggs believes Kwik Fit can help, specifically by reducing the amount of holiday time spent arranging tyre fitting: "We have seen an increased number of customers making appointments for mobile tyre fitting at holiday homes, resorts and caravan parks. Having us visit our customers rather than vice-versa is a great way for motorists to ensure that they spend more time doing the things they enjoy most, as they can carry on with their holiday and leave their tyre care to us."
Kwik Fit operates a fleet of more than 200 fitting vehicles in the UK and free next day fitting on orders of two or more tyres when placed before 5pm Monday to Thursday.