Federal celebrates 60th anniversary at Reifen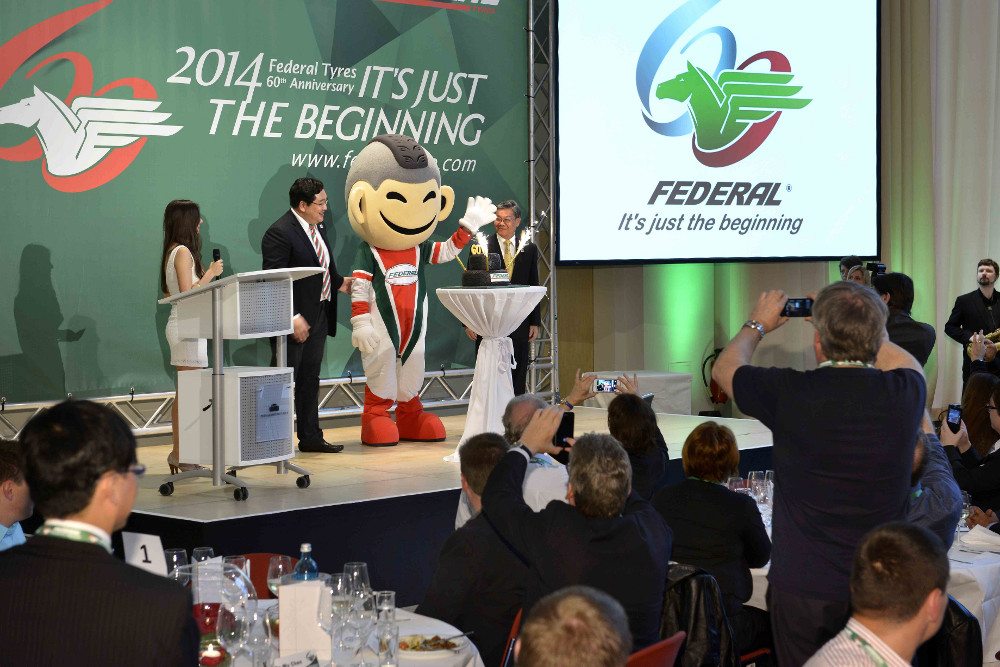 Taiwanese manufacturer Federal marked its 60th anniversary with a gala party held in the Philharmonie Essen RWE Pavillon. Featuring its product range and long-serving and popular mascot Feddi at its Reifen 2014 stand, Federal's diamond jubilee was described by chairman Jamie Ma as "just the beginning" in a speech given to business partners at the evening event.
During his speech, Ma said that, as the first established tire manufacturer in Taiwan, Federal Tyres could count itself a "pioneer" in creating its own brand and commencing export business, producing radial tyres in Greater China, and developing UHP and motorsports series as well as supporting and sponsoring racing events. In 2013, Federal Tyres also kicked off a three-year official partnership agreement with Manchester United in the Taiwan and Russia regions, with the Red Devils' badge displayed prominently during the show.
Federal awarded its partners a Plaque of Appreciation in thanks for their support, with a tyre-shaped birthday cake presented during a chorus of Happy Birthday. The manufacturer also featured a lucky draw, with a full set of Federal tyres given out as prizes.