Groundbreaking for Toyo expansion in US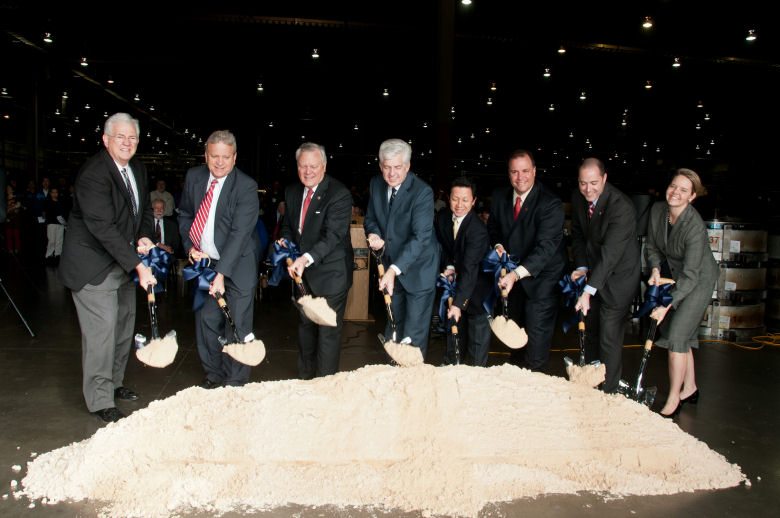 Toyo Tire North America Manufacturing, Inc. (TNA) has broken ground on a 700,000 square foot (65,000m²) addition to its 2 million square foot (186,000 m²) tyre manufacturing facility in White, Georgia. The plant's warehousing capacity will also be expanded by 323,000 square feet (30,000m²); Toyo says it needs a larger warehouse area to accommodate increasing demand for Toyo and Nitto brand passenger car and light truck tyres. Parent company Toyo Tire & Rubber is investing US$371 million in the TNA expansion over the next four years.
Initial groundbreaking at the White plant, which features Toyo's proprietary A.T.O.M. (Advanced Tire Operation Module) automated production system, took place in 2004. At the time the first tyre was produced in early 2006, TNA employed a staff of 81 people; since then it has undergone three expansion projects, more than doubling the size of the facility and boosting the workforce to more than 1,000. This new investment will result in the creation of a further 650 new jobs in the region. TNA achieved ISO 14001:2004 Environmental Management Systems certification in September 2013, and on 27 November the facility produced its 20 millionth tyre.
"We are proud to manufacture tyres for North America, on North American soil," said TNA president Jim Hawk. "This plant, and the people who work in it, play an important role in supporting consumers and our dealers as demand for our products continues to grow. This fourth expansion will help us answer that demand."