Michelin adds 'unique' VF420/95R50 size to SprayBib range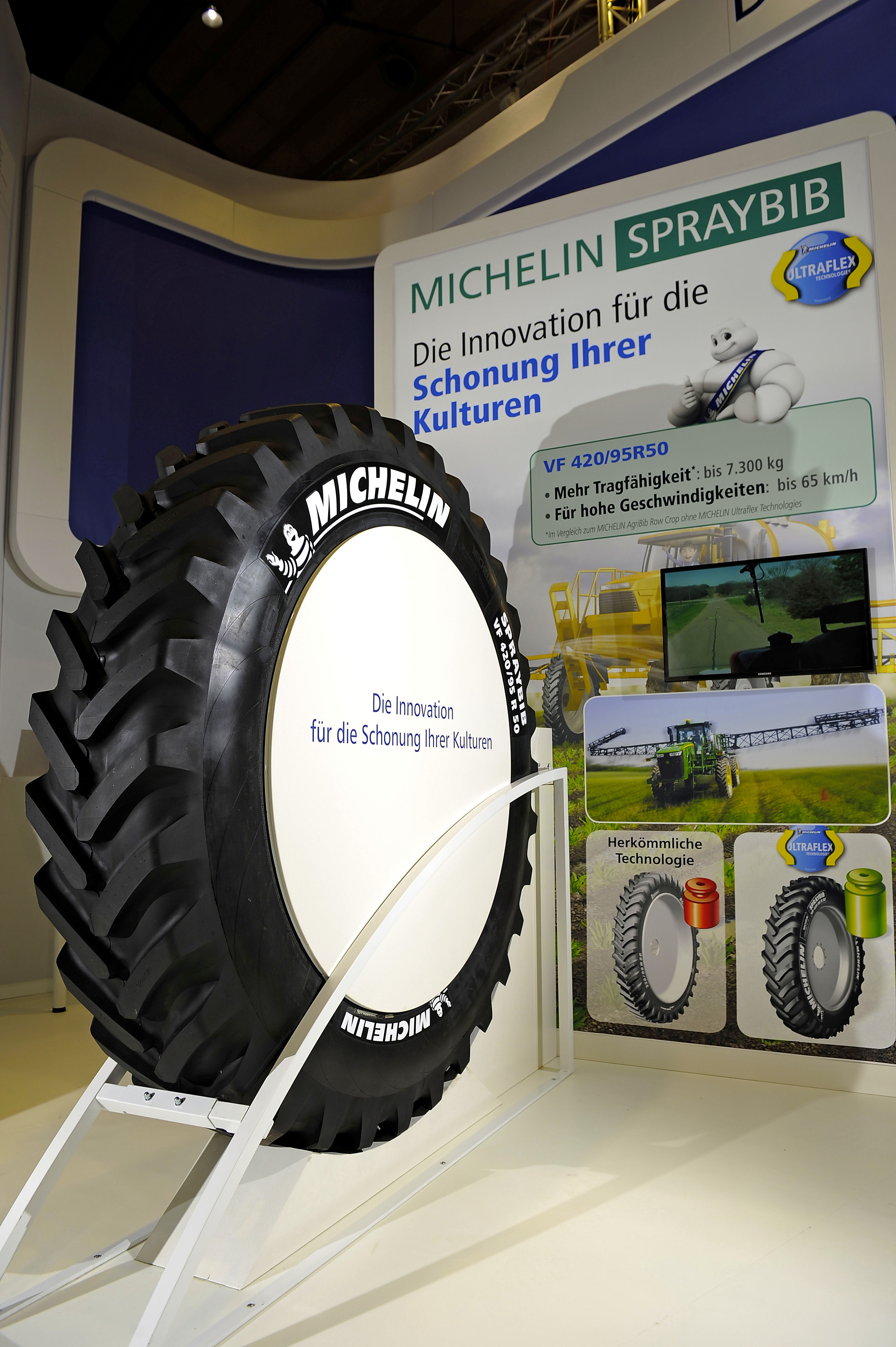 With its new SprayBib VF420/95R50, Michelin says it has introduced a size that is unique in the crop-conditioning segment. The new tyre is on display at Agritechnica this week and the tyre maker says this extension of the range demonstrates its "ability to integrate innovative technologies that satisfy farmers' needs throughout the crop cycle."
The SprayBib VF420/95R50 has a 95 aspect ratio and Michelin says this guarantees enhanced safety and stability for users of sprayers and other crop conditioning machines, vehicles that are growing in size in order to meet productivity, speed and load capacity requirements. These machines can now carry more than 4,500 litres in their tanks, and Michelin notes that only a tyre with a maximum 95 aspect ratio can guarantee optimal stability, especially at high speeds of up to 65 km/h.
The tyre SprayBib VF420/95R50 uses Michelin's proprietary Ultraflex Technology, which means it can operate at lower than standard pressures. The 'VF' part of the tyre's name, incidentally, stands for very high flexion and is an ETRTO (European Tyre and Rim Technical Organisation) designation for tyres that are designed to operate at 40 per cent higher rated load than standard tyres at the same air pressure. Michelin thus states that the new SprayBib size more effectively protects the soil by applying less pressure and distributing it more evenly thanks to the tyre's large footprint. Giving an example, the tyre maker reports that for a load index of 177 (7,300 kilogrammes), a tyre integrating IF technology requires a pressure of 4.8 bar. Thanks to its use of VF technology, Michelin can improve work in the field with its SprayBib VF420/95R50 inflated to a pressure of only 3.6 bar.
"This ability to function at low pressure provides farmers with a decisive advantage, enabling them to take to the fields as soon as winter ends without harming the soil and to more effectively manage their operations in working periods that are sometimes shortened by weather conditions," comments Michelin.
A 2014 market launch is planned for the VF420/95R50, which joins the 2011-introduced VF380/90R46 in the SprayBib range. Michelin says the new size was developed through close cooperation with John Deere.