Apollo opens first Sri Lanka retail outlet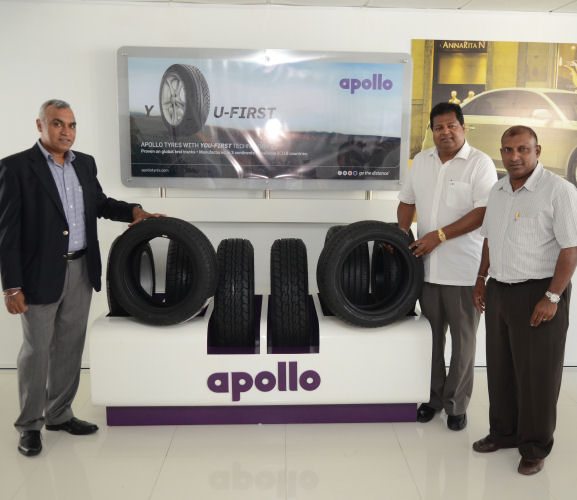 Sri Lanka is one of Apollo Tyres' fastest growing export markets – the company says sales there have increased more than 50 per cent year-on-year since the brand's introduction into Sri Lanka in June 2011. The Indian tyre maker has now opened its first branded retail outlet within the country.
This initial Apollo Zone outlet in Sri Lanka is operated by Ideal Wheels & Tyres, the Apollo brand's exclusive national distributor. Apollo says it launched a branded outlet in Sri Lanka in order to increase sales and visibility of both its passenger car and its commercial vehicle tyres.
"Sri Lanka is at the cusp of growth, especially the regions which were most affected by war," commented Satish Sharma, Apollo Tyres' chief of India operations. "Also, there is enough movement of commercial vehicles due to the rapid infrastructure development across the country; this in turn leads to increased demand for tyres. Branded retail outlets, such as the one which we have opened today in Colombo, will result in a higher visibility for the Apollo brand."
"We are very much excited to have partnered the leading Indian tyre manufacturer and exporter, Apollo Tyres, which is a US$ 2.34 billion company with a huge global presence," added Nalin Welgama, chairman of Ideal Wheels & Tyres. "We are proud to announce that we have been able to capture a lion share of the truck-bus bias tyre market in our territory within a short span of time. With the opening of the ultramodern Apollo Zone and island-wide distributor network, will enable us to consolidate our market share further."
Ideal Wheels & Tyres is led by Nalin Welgama and deputy chairman Aravinda De Silva, who cricket fans may recall from his two decades playing for the Sri Lankan team and his short stint with the Kent county side.