Tyre-based protest goes awkwardly wrong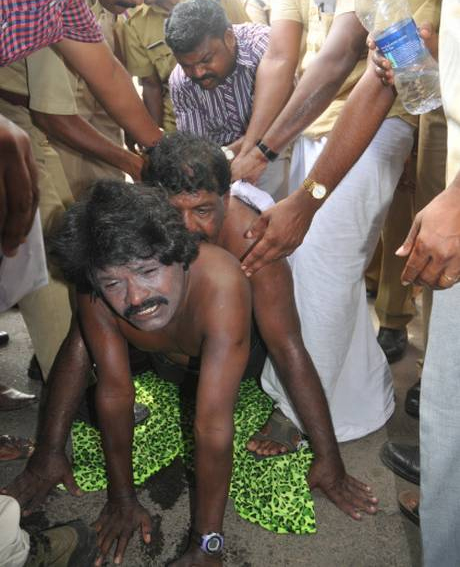 Nothing makes a statement like sliding through a tyre. This was perhaps the logic employed by two men protesting against garbage problems in the Indian city of Thiruvananthapuram. The Hindu newspaper reports that the two-middle aged men ended up spending an "agonising hour" trapped inside a tyre after their "ill-conceived" acrobatic street demonstration went awry. What the pair attempted, it must be said, should not be tried at home.
The two men, one of whom was identified by The Hindu as Thampi, a dancer, choreographer and "self-styled champion of public causes," began their demonstration outside the region's administrative headquarters on the morning of 26 June, starting off with juggling and sleight of hand tricks. After a short time, however, the protest jumped to a new level. The Hindu covers the full action, sharing that both men "removed their shirts and flaunted the rubber tyre in front of the pedestrians, policemen and news photographers who had gathered around to watch their act."
The Indian news daily continues its report of the tyre-based demonstration: "Thampi and his associate crouched on all fours, one on top of the other, and tried to slither their torsos through the tyre simultaneously. The act went on smoothly till the contraption reached the abdominal part of the slightly portly men. Despite their best efforts, twists, turns, heaves, squirms, wiggles and grunts included, the tyre would not move an inch down from their bellies." According to the Hindu article, the cameraman on hand to film the protest was, like the rest of those watching, initially unsure whether the struggles of the men were real or part of the act – until, as the newspaper states, Thampi "swore loudly at the cameraman" and asked him to fetch a hacksaw blade he'd packed in his bag.
At this stage, police and members of the public joined the effort to free the two men. "They took turns wielding the flimsy blade, which soon lost its edge against the steel-fibred 'radial' tyre," the Hindu staff reporter writes. Finally the Fire Rescue Service was called. After emerging from his circular prison, Thampi was let off with a warning from police. A member of the media who claims to know Thampi well told The Hindu that the "irrepressible entertainer" would soon be back with another "brilliantly clumsy" street act. We look forward to reporting further tyre-related activities.