Tag: Goodyear Ultra Grip Coach
At the start of 2015 we examined the wider car tyre segment as part of Tyres & Accessories February's "Passenger Car Tyre" feature. In short, we examined the spectrum of figures offered for the size of UK demand and found that most sources settle between 31 and 38 million units a year. Interestingly, some of the latest data points to the market being at the higher end of the spectrum – something that has not been very widely or openly acknowledged in the past.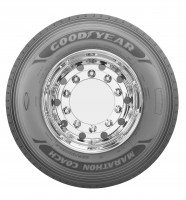 Coach travel's status as one of the most fuel efficient modes of transport will be boosted further by an increase of the EU weight limit for passenger service vehicles to 19 tonnes. To maximise the efficiency and profitability further – as well as to comply with safety requirements – premium tyre manufacturers in particular are readying their commercial vehicle ranges, with specialised lines delivering load capacity increases and improved, coach-specific characteristics. Goodyear states that its Marathon Coach and Ultra Grip Coach tyres have been developed with load capacities in anticipation of regulation changes proposed by the European Union.