WhatTyre.com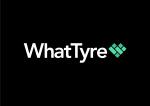 Company Name:
WhatTyre.com
Long Business Description:
WhatTyre is a comparison site designed to help you find the best tyres for your car.
We don't sell any tyres, so you can trust what we say.
Our information is based on over 70 years of tyre industry experience combined with the best tyre testing sources out there.
As well as explaining everything you need to know to make your own mind up, we have pooled our resources to create a unique metascore.