VMI looks back at 25 years in China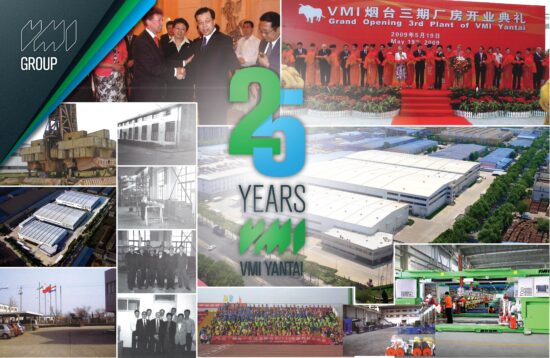 Often when we see the words 'VMI' and 'China' used in the same sentence, the context is a court ruling or copyright infringement. But although such issues are significant, they tell by no means the entire story of VMI in China. The company is now looking back at its 25 years in this market, a period it describes as one of "extraordinary change in the Chinese tyre industry" – change that "VMI has been at the heart of it."
Whereas Chinese companies were hardly known outside the country at the start of the millennium, today a number have become established global players with rapidly increasing name recognition. The entire Chinese tyre industry has come a long way in a short time, and VMI believes this progress "has been achieved to an extraordinary extent" through use of its technology.
VMI first introduced its products to China in the late 1980s, with sales in those early days managed through an agent based in Hong Kong. The Chinese economy was evolving quickly at the time, with the tyre and automotive sectors moving faster than most due to the historic changeover from cross-ply to radial tyres. VMI first sold a single-stage machine to a Chinese company in 1994, and this proved to be an immediate success. "That's when we decided the time was right to make a full-scale commitment to China, opening our first plant on March 25, 1996, in Yantai," recalls the company.
Local manufacture, international quality
By establishing a manufacturing centre in Yantai for best-in-class machines, VMI made it easier for ambitious Chinese tyre companies to access reliable equipment that was locally-made but met the highest international quality standards. This helped customers raise their own productivity and quality standards, setting them on the road to rapid growth. VMI adds that a local manufacturing presence also helped it to undermine the culture of technology copying, which it notes "has always been a problem in many Chinese industries."
Growth and development began to accelerate in 2006 with VMI's introduction of a new breed of single-stage, semi-automated machines, the 242 series. It manufactured these in Yantai from 2009 and they proved an instant success in the Chinese market. But the most dramatic change came in 2013, when VMI introduced the Exxium fully automated single-stage machine into China, followed by the Vast truck tyre machine in 2015. "This new technology from VMI drove unprecedented improvements in productivity and quality and has accelerated transformation of the whole industry."
At home in China
Today, the VMI plant in Yantai manufactures some of the most advanced machines in the global tyre industry. The story of VMI Yantai is one of continuous growth and enhanced technology transfer, and the company builds automated tyre building machines, bead apex, cutters, batch-offs there. Some production utilises components from Europe, but the Yantai plant increasingly manufactures equipment end-to-end.
"The Yantai facility is one of the most modern in the world tyre industry, and it includes automated systems, robotic welding, advanced CNC machines and a quality system that compares with best practice anywhere in the world. Senior leadership is entirely Chinese, and so are almost all production personnel," comments VMI.
VMI Yantai is a Chinese company, registered in China and paying its taxes there as well. "Unlike many foreign businesses, VMI made a strong commitment to China and has become part of the industry's fabric. The Chinese tyre industry has been a major success story. It is very unlikely that Chinese companies could have progressed as far and fast, nor have grown and prospered as they have done without the vital contribution made by VMI."
The next 25 years
The big question for VMI today is this: what will the next 25 years bring? The company observes that making predictions is a dangerous game but can also be interesting. Here is what VMI expects to happen going forwards:
Chinese companies will drive innovation. The automotive (and therefore tyre) industry will be transformed by growing convergence between artificial intelligence, smart city systems, autonomous vehicles and communication technologies. Chinese institutions and businesses are leaders in many of these, and this is likely to help Chinese tyre manufacturers become even more competitive.
VMI will continue to invest in China. Yantai has moved from being an assembly centre to a true production facility, and this has worked well, not just for Chinese customers but for VMI's wider business. "We want to see this continue for as long as possible," says VMI.
Intellectual Property (IP) will be more vital than ever. The speed of technology change is increasing and that means both developing and protecting IP is becoming more important. VMI reflects that "traditionally this has been a problem in China, where copying remains too common." It adds: "There are signs that the Chinese legal system is moving to protect IP more strongly, as Chinese companies become stronger innovators themselves. We hope this trend will also continue."
And finally, when VMI opened for business in Yantai, the Chinese tyre industry was at an early stage of development. VMI describes progress made here over the past 25 years as "extraordinary" and states it is "very proud" of its contribution to this success story. "China is one of the most attractive growth markets in the world, and VMI is committed to making the next 25 years in China even better than the first."