Chinese wheelmaker opens second production line in Morocco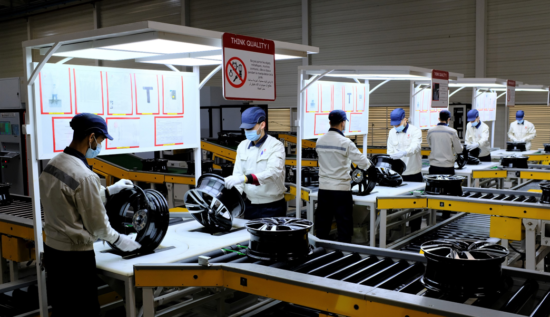 Aluminium casting and automotive parts specialist, Citic Dicastal kicked off production at its second aluminium wheel factory in Morocco at the end of December 2020. With a budget of 350 million euros, the Chinese wheelmaker aims to double its capacity in Morocco to 6 million wheels and create a total of 1,250 jobs. According to local news reports, the Dicastal-made wheels are destined for vehicles made by the French OEM PSA Group as well as exports.
The opening ceremony of the Kenitra, Morocco factory took place on 26 December 2020 in the presence of Kenitra Governor Foud M'Hamid and Moulay Hafid Elalamy, Minister of Industry, Trade, and Green and Digital Economy. Xu Zuo, president of Citic Dicastal and vice-president of Citic Group joined from Beijing via video conferencing technology.
According to the company, Citic Dicastal's latest production line will be equipped with advanced technology that will work on manufacturing wheels as well as finishing them with premium paint across a range of large rims.
News of the opening of its second Morocco wheel plant, follows Citic Dicastal's inauguration of its first African factory in the city of Kenitra roughly 18 months earlier in June 2019, which was hailed as an industrial cooperation project between China and Morocco. The alliance was characterised as part of China's wider "One Road, One Belt" global development strategy.
During that inauguration ceremony in June 2019, Elalamy stated that Citic Dicastal's investment brings to Morocco a pioneering technological speciality and adds expertise and knowledge to support a competitive automotive industry. It also brought significant investment
The first production line came via 147 million euros of investment and was also designed to make wheels destined for the French car manufacturing giant PSA Group. PSA Group, which makes vehicles under the brands Peugeot, Citroen, DS, Opel and Vauxhall, inaugurated its own factory in Kenitra, Morocco a week earlier in 2019. With an investment of $620 million, that plant was set to produce 200,000 vehicles per year by 2020 and therefore Dicastal's growing Morocco capacity cannot be destined for PSA Group's Morocco factory or PSA Group alone. Indeed, at the time of the first factory's opening in June 2019, the North Africa Post reported that 90 per cent of the first Dicastal plant's output was destined for export. The factory initially employed 420 people and will employ up to 1200 people in the long term.
Citic Dicastal has factories across Europe, North America and China. It supplies parts to major car companies including Volkswagen, BMW, Renault-Nissan, Fiat, Chrysler Automotive, Peugeot, Toyota and Audi.