Europe's newest retreader invests in a 'particular service'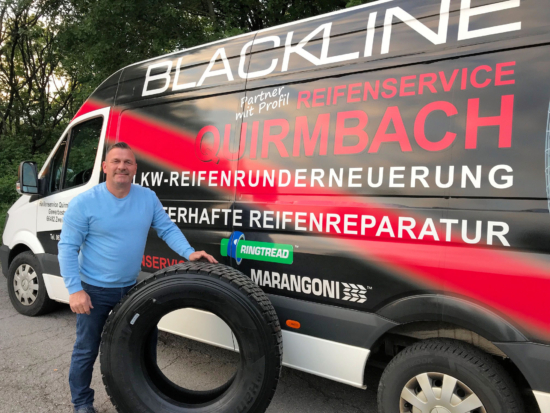 Reifenservice Quirmbach expands business model
The tyre retreading business has stagnated in many European markets for years. Imports of new tyres from the Far East and the major tyre brands' own, large-scale retreading plants place small and mid-sized retreaders across Europe under substantial competitive pressure. Although consolidation has become the rule in recent times, a remarkable exception to this rule – one characterised by entrepreneurship and persuasiveness – can be found in Germany's retreading market: Owner-operated Reifen Quirmback in Zweibruchen, Rhineland-Palatinate has invested a seven-figure sum to develop its own truck tyre retreading, and by doing so enters a completely new business area. When we visited the site, we discovered a very good reason for entering this line of work.
Anja and Martin Quirmbach have continuously expanded their company since founding Reifenservice Quirmbach  in 1998. Starting with two car hoists, they developed the firm over the years into a renowned medium-sized regional company employing nine people. But at some point the question arose: How and, above all, in which segments should further growth be targetted?
The business was already active in the commercial vehicle tyre segment, operating a self-assembled 7.5 tonne breakdown vehicle and offering various truck tyre services, including as a First Stop partner. It also mounted and repaired industrial and agricultural tyres in sizes up to 42 inches. Further investment in this area was clearly desirable, and Anja and Martin Quirmbach therefore decided to focus any further expansion upon their quality- and service-oriented truck tyre business.
To accomplish this, the Quirmbachs needed someone with expert knowledge of products and markets who could focus on and tackle the main points of the expansion They found such a person in 2017 in Christian Gross. Born in 1967 and in the tyre business for the last 30 years, Gross speaks about his profession with passion; some would call it his calling. Before joining Reifenservice Quirmbach, Gross worked for another regional firm, Reifen Lindinger, first as a driver, then in assembly and later primarily in the site's retreading operation, which he managed for several years. Today he says of himself, "I'm a vulcanisation master in body and soul and like customer contact; I learnt both from scratch."
Promoting and expanding a truck tyre business is one thing. But why invest in your own retreading facility when you can simply market retreaded tyres you've purchased from someone else? Gross comments that a quality- and service-oriented truck tyre specialist can only truly succeed with a marketing strategy that supports new tyres with retreaded tyres. "There's no way around this," he states, adding that anyone can sell on price. Marketing a particular service is much more difficult, but pays off in the long run.
A competitive market environment also requires companies to position themselves carefully. While many firms resell retreaded truck tyres to support their new tyre sales, Quirmbach took a unique approach: "Retreading is something special in the market," comments Christian Gross. By this he means that Quirmbach uses its business with retreaded truck tyres in order to sell new tyres, not the other way round as is usually the case, even though this is a "more difficult path" to take. In this way, retreaded tyres can be priced at a sustainable level and benefit the manufacturer as well as the customer.
Gross's many years of experience have shown him that a professionally-made retreaded truck tyre –  whether mould cure or pre-cure – needn't fear comparison with a new tyre. The team at Reifen Quirmbach is convinced that as a manufacturer-seller, it can also position itself as a rapid service provider and immensely flexible problem solver. Gross persuaded Anja and Martin Quirmbach that retreading their own tyres was exactly the right means to further expand their quality-oriented, service-heavy truck tyre business.
Nobody outside the tyre industry can really recall when a completely new player last joined Germany's retreading industry. Gross shares that the company thus found it important to have a strong partner at its side who shared the same ideas, beliefs and, above all, provided substantial know-how. Reifenservice Quirmbach found such a partner early on in Marangoni Retreading Systems Deutschland GmbH and in Matthias Leppert and Christian Asmuth, whom Christian Gross had known for a long time.
As Reifenservice Quirmbach wanted to position itself with product performance, Gross decided only one particular product was worth considering. "The Marangoni Ringtread is a premium product we can use to set ourselves apart," he stresses when discussing the quality-based reasons behind his choice of partner and the decision to use the Blackline compound. "Quality is the be-all and end-all in retreading." As a result, the freshly-minted retreader signed a Ringnet partnership agreement with Marangoni two years ago while visiting The Tire Cologne trade fair. This agreement ensures the company a degree of regional exclusivity in the marketing of Ringtread retreads.
Even though the partnership agreement's signing in 2018 meant they could in theory commence retreading within a few months, unexpected yet seemingly unavoidable complications thwarted this ambitious goal. Gross reports that issues such as basic project planning, project financing and the local authorities'  approval of the building application all took a lot longer than originally expected, and then the final phase of the project was hampered by the effects of the corona pandemic.
Despite all this, the excavators began work early last year at the neighbouring property acquired by Reifen Quirmbach. The 1.3 million euro investment project also includes expanding the existing truck tyre fitting building with a direct through passage. This was completed in May 2019. But the focus point of the project is the new 1,000 square metre production building. This houses a 650 square metre retreading facility over two levels as well as a 350 square metre storage facility for new and retreaded tyres. Christian Gross shares that Reifenservice Quirmbach fitted the plant out entirely with refurbished and second-hand production equipment, but it contains everything you'd expect to find in a modern pre-cure retreading facility. At its heart is a Marangoni Ringtreader 1000. And although Reifenservice Quirmbach mainly utilises Ringtreads in its retreading, it also possesses an AZ building machine; conventional treads are employed for retreading light commercial vehicle tyres. The buffing machine is from TRM, extruder from AZ, pressure gauge and spreader from Matteuzzi and the 24-tyre autoclave at the end of the monorail system was produced by Scholz. The facility's final component will soon be installed, a shearography unit for inspecting newly-arrived casings. Marangoni's technicians helped considerably with the installation, commissioning and calibration of all systems.
"Our production is running, we already successfully made our first test tyre," says Gross, whose boss Martin Quirmbach wanted to personally produce the very first retreaded tyre, a Ringtread tread for construction site applications in 315/80 R22.5.
It's one thing to bring a facility into physical operation, but selling the tyres it makes requires the ticking of another set of boxes. Before the new plant's output could be sold, Reifenservice Quirmbach required type approval in accordance with UNECE Regulation 109 (commercial vehicle tyres), issued by Germany's Federal Motor Transport Authority – which hadn't received such an application for more than two decades.
This approval process focuses on success in two important checks. Several sample retreaded tyres which are "representative" for the applicant manufacturer must pass a performance test. This includes either a destructive or non-destructive test that demonstrates the retreaded tyre's structural integrity. A load/speed endurance test on a test drum is also carried out. All product tests carried out by TÜV Nord as part of the approval process for Reifenservice Quirmbach went according to plan. Gross says that all product-related hurdles to type approval had been cleared by the end of April.
The second important test according to UNECE regulation 109 concerns the "initial assessment" of the tyre retreading operation itself and its standards and processes. Due to delays stemming from the corona crisis, the required audit with the TÜV inspector could only be conducted in May (after this publication went to press). However, Christian Gross told us that he and his partners at Marangoni didn't expect any issues related to the issue of the approval mark, the retreader's e-identification, which means Reifenservice Quirmbach is almost certainly now Germany's and Europe's newest retreader.
Although Christian Gross's hands-on approach brings him onto the shop floor every day, he cannot operate the equipment alone. Anja and Martin Quirmbach have thus hired two additional production employees so that Gross, as a member of the management team, can also engage in customer-facing work and position the products accordingly. Christian Gross reports that annual production volumes will soon be a "healthy 5,000 to 6,000 pieces," and in addition to selling these directly the company's retreads will also be marketed by resellers such as tyre dealers, thus making an important contribution to  turnover.