Hella LED Matrix Headlamps for the new VW Touareg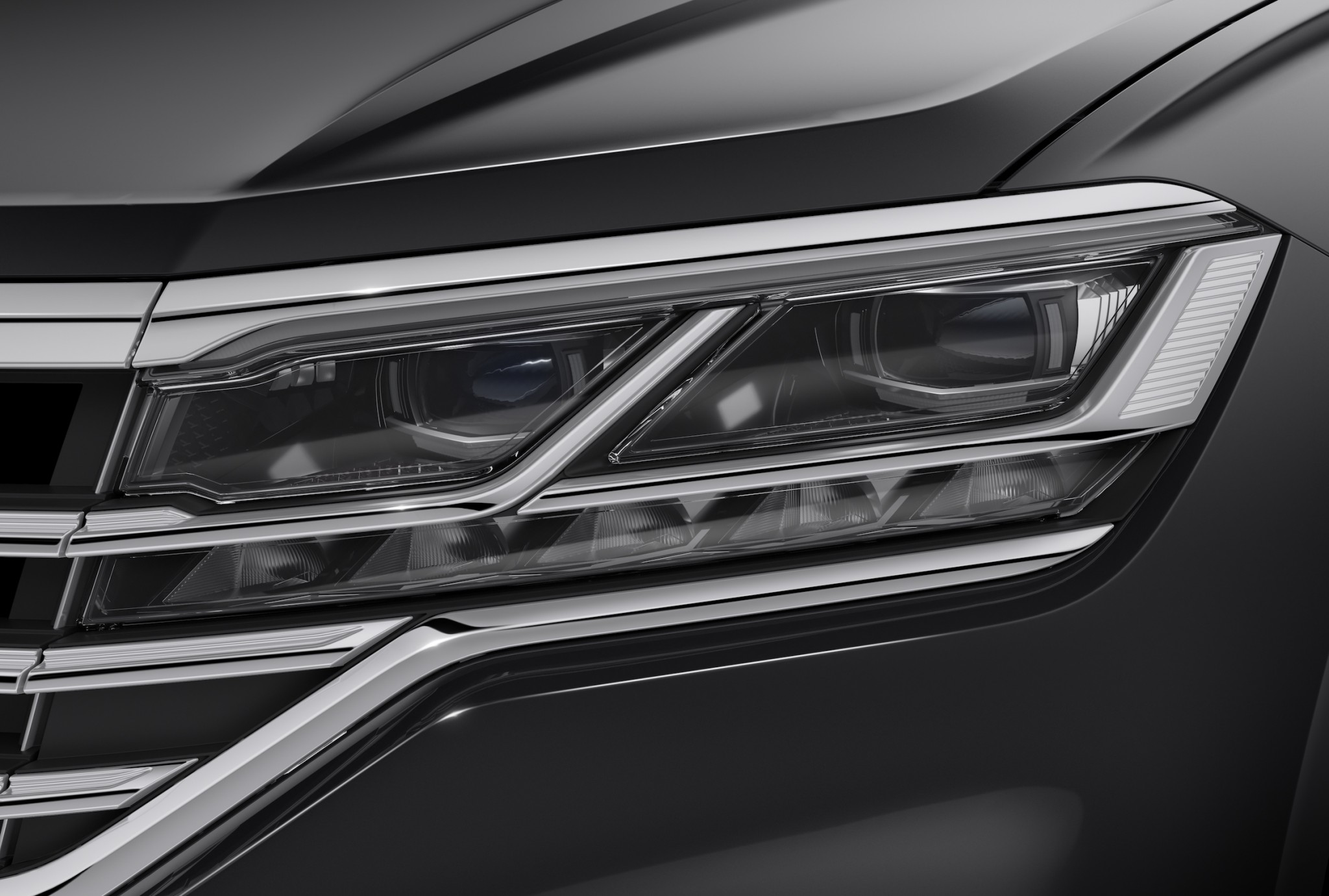 The latest generation Volkswagen Touareg, which has just had its world premiere in China, features one of the most powerful lighting systems on the market – the LED Matrix Headlamp, jointly developed by Hella and Volkswagen. Volkswagen will offer the innovative lighting system for the new luxury class SUV, under the 'IQ.LIGHT – LED Matrix Headlamps' designation.
Through the targeted control of their 128 LEDs, these headlights provide very precise, optimised light distribution and luminous intensity. Compared to conventional lighting systems, the LED Matrix Headlamps significantly increase safety and comfort, since they will enable the driver to recognise road details and possible obstacles much earlier and more clearly, and therefore reduce the strain of driving at night.
The headlights operate with individually controlled LEDs that respectively combine into a matrix of light spots in both low and high beam modules and depending on the situation, these LEDs are individually controlled. The low beam consists of a matrix totalling 48 LEDs arranged on a joint circuit board, whereas the high beam circuit board is equipped with 27. These 75 LEDs in the low and high beams form the adaptive matrix light. However, 53 additional LEDs ensure that lighting functions, such as the illumination in front of the vehicle, the cornering lights and daytime running lights, the position lights and direction indicators, can be shown. So, in total, 256 LEDs are used for the front lamps of the new Touareg.
For the targeted activation of each LED, the respective control unit will analyse the vehicle's front camera signals, as well as the digital card data and coordinates of the GPS unit. Current vehicle parameters, such as the steering angle and speed will also enter the process. Within a fraction of a second, this combined data will result in the ideal LED headlamp illumination of the road and the surroundings.
In the Touareg, all this is fully automated via the activated 'Dynamic Light Assist', so the LED Matrix Headlamps not only turn on and off independently, but adjust the light to the respective environment, topography and traffic situation. Across many different signals, the car recognises whether it is in the city or on a country road, on the highway or off-road, as well as the whereabouts of other road users.
The very precise operation of the LED Matrix Headlamps ensures that although the lights are never glaring other road users, the driver always benefits from the best possible illumination. The system also prevents the driver from glaring them self when spotlighting traffic signs, since the camera-based light also reacts to signs by temporarily diming the LEDs. In the same way, even reflections caused by rain-soaked roads are noticed and reduced.