Bush Tyres: New locations, appointments supporting agri growth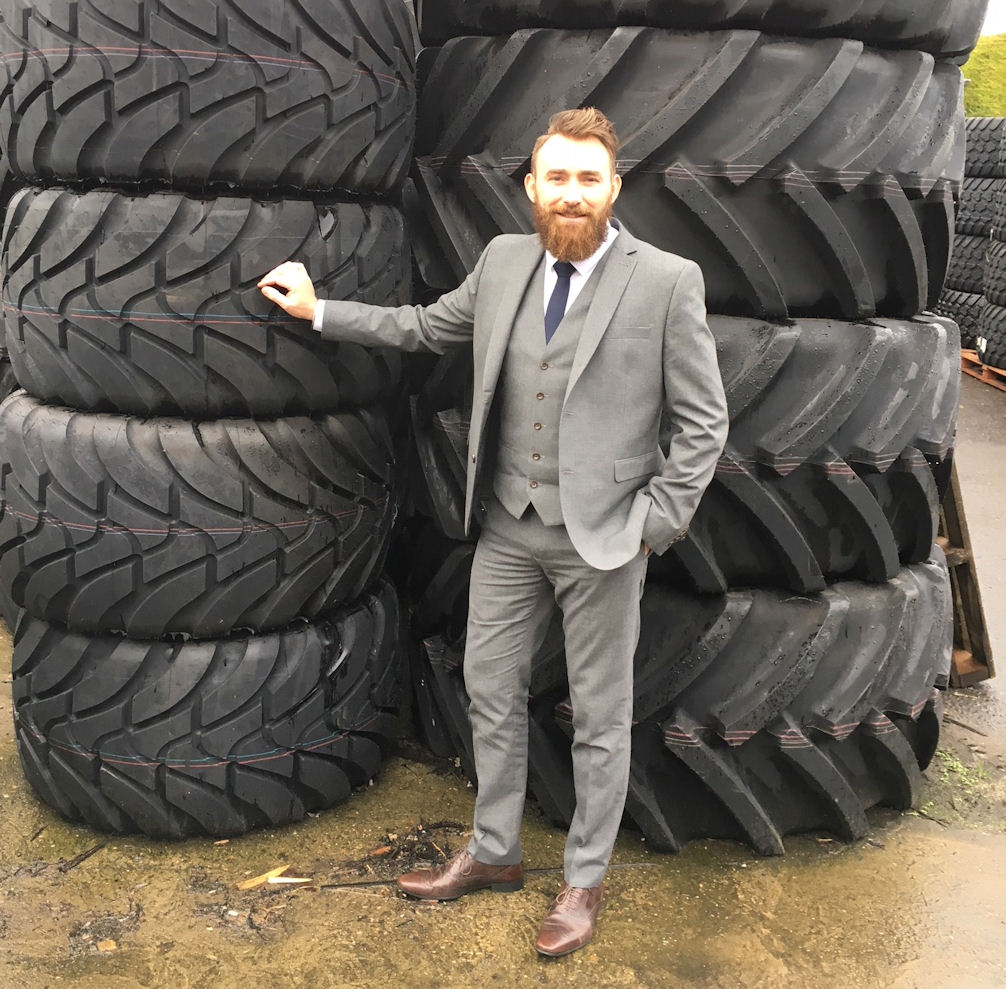 Happy Birthday, Bush Tyres. Now 70 years old, Lincolnshire and East Yorkshire's leading independent tyre specialist may well be the longest-established agricultural tyre supplier in the country. Set up as a bicycle tyre specialist in 1947, agricultural tyres joined the portfolio soon afterwards, and Bush Tyres never looked back. Now in its fourth generation, the family-run business is, as a Grouptyre member, strongly engaged in the distribution and retail sale of car tyres, and it is also equipped to meet the tyre and service requirements of commercial fleets. The agricultural tyre business remains nonetheless important to Bush Tyres, and here it is present in a variety of segments, including original equipment. Marketing director Tom Bush shares that the tyre company was particularly active in this last-mentioned field in 2017, and aims to continue its growth there during the course of this year.
The breadth of Bush Tyres' presence within the agricultural tyre segment is an arrangement that, for Tom Bush, sets the company aside from its competitors. It sells to retail customers, supplies tractor dealers with wheel and tyre packages and conversions, and also distributes to agricultural trade customers such as independent and local tyre dealers. On top of this, and quite uniquely, Bush Tyres is engaged in OE2 business. "We supply brand new build wheel and tyre packages to UK-based manufacturers of self-propelled sprayers, as well as trailer manufacturers," says Tom Bush. "Very few companies are active in this particular business."
The company's original equipment activities were a strong focus in 2017, and Bush considers OE2 to have been Bush Tyres' "big growth" business during the year. Acknowledging its importance, the company has hired a seasoned industry professional to assist its ongoing expansion in the OE2 segment. As of 6 December, Simon Warren – whose prior experience includes the role of general manager at Specialised Wheel Services as well as positions at Summit Tyres and GKN Wheels & Structures – is the wholesaler's OE2 manager. Warren works closely together with Stuart Moor, head of OE2 sales.
Additionally, the company's OE2 capabilities will be enhanced this year by a new Bush Tyres location, one of two the company is currently working towards opening. Tom Bush says this new facility is ideally positioned to "significantly increase our OE2 offering." Both it and the other new facility are also expected to substantially boost the company's agricultural and truck tyre sales.
Stock levels a competitive advantage in 2017
Good growth in OE2 was the icing on a cake that saw Bush Tyres' tractor tyre unit sales increase 34 per cent year-on-year in 2017 – healthy performance any time, but particularly noteworthy given the price increases and availability issues that punctuated the year. In regards to both these points, the 70-year-old company was helped by its heritage: As Tom Bush shares, the philosophy held by his grandfather and, even further back, great grandfather and company founder Benjamin Arthur Bush, was to maintain "robust stock levels," especially for agricultural products. Current management remains true to this approach and agricultural tyre stock levels have increased year-on-year for some time now.
"With agricultural tyres, you can't wait to have a particular size delivered from the manufacturer, and for this reason our stock is much higher relative to turnover than at other companies," says Bush. And while there's never a good time to wait for an agricultural tyre and experience equipment downtime, he adds that agricultural tyre availability in 2017 was "difficult for most brands." Describing the year as "one of the worst for availability" he's seen, the marketing manager comments that Bush Tyres was fortunate to have put additional stock in at the start of the year. "This meant we had tyres and sizes that no one else possessed, and could utilise stocks that no one else had."
Whereas huge stock levels worked against Bush Tyres a couple of years ago when tyre prices were going down, 2017 proved to be "the other side of the coin." With currency fluctuations an issue and raw material costs on the rise in late 2016 and early 2017, tyre makers responded by lifting their own prices. Once again, Benjamin Bush's preference for high stock levels helped Bush Tyres. "If you didn't have tyres at pre-increase prices, you became uncompetitive," shares Tom Bush. "Implementing price increases is a challenge any time, but thanks to our stocks we could do this in increments over time, thereby staving off a sudden, large increase. This helped us to sell more." Having been "more aggressive on pricing," Bush Tyres was able to gain market share during 2017.
Premium focus, room for exclusive budget brand
When it comes to OE2 provision, Bush Tyres strives to be impartial on brand, however for other business the company's principal products are Michelin group and Mitas group brands. "These are our primary tyres, but we also sell a wide range of agricultural tyre brands, including Bridgestone, Firestone, BKT, Trelleborg and Vredestein," the marketing manager adds.
Although most active in the premium agricultural segment, Bush Tyres has identified a gap in the market that it intends to fill this year. According to Tom Bush, the search is now on for additional brands for 2018 – specifically, a range to fill a void Bush Tyres sees within the tractor agricultural trade segment at the moment. "A market exists for provision of the agricultural trade at the premium level, but in the same breath we need to have a budget offering. There's a market for us to have an exclusive private label, and that's something we're especially looking at for 2018." He adds that a number of brands have been considered, however it's still too early to comment further about this.
With a growing fleet of Bush Tyres agricultural and commercial service vans, six major service hubs (the newest being Service Line Grimsby, which opened in 2017 as the company's second site in the area) and 22 unique locations operating according to a cluster model, response times for agricultural customers have improved; short waiting times is a Bush Tyres selling point with farmers. So is health and safety: Every single Bush Tyres location is currently ISO 9001:2008 certified, and the transition to the new ISO 9001:2015 standards is scheduled to take place in March. Referring to several accidents that have occurred within the UK agricultural sector, Tom Bush views this certification as highly important. "It offers assurances to our farm customers that we're going to do the job properly."
Brexit boosting aftermarket sales
Following on from a 34 per cent rise in tractor tyre unit sales in 2017 and double-digit growth over the previous four years, Bush Tyres has bolstered its agricultural and commercial business with the opening of three new locations. It has also, in addition to appointing Simon Warren, grown its sales team – an outfit that has more than a century of combined experience – with three new appointments during the year. One of the three looks after agricultural sales in Bush Tyres' southern geography, one was appointed to bolster northern growth and one is responsible for the central area. At this stage the company is looking to make at least one further appointment in 2018.
And what does Bush Tyres expect from this year? In addition to increasing its OE2 activities, the company anticipates higher demand for replacement agricultural tyres. "Uncertainty linked with Brexit means that people are putting off purchasing new machinery and are holding onto their existing equipment a fraction longer," comments Tom Bush. "Market data we've seen suggests there will be an increase in replacement next year. The farmers we speak to also say they're going to hold on to their machines and look to replace tyres, where previously they just replaced machines." stephen.goodchild@tyrepress.com