June production a record for STARCO's UK factory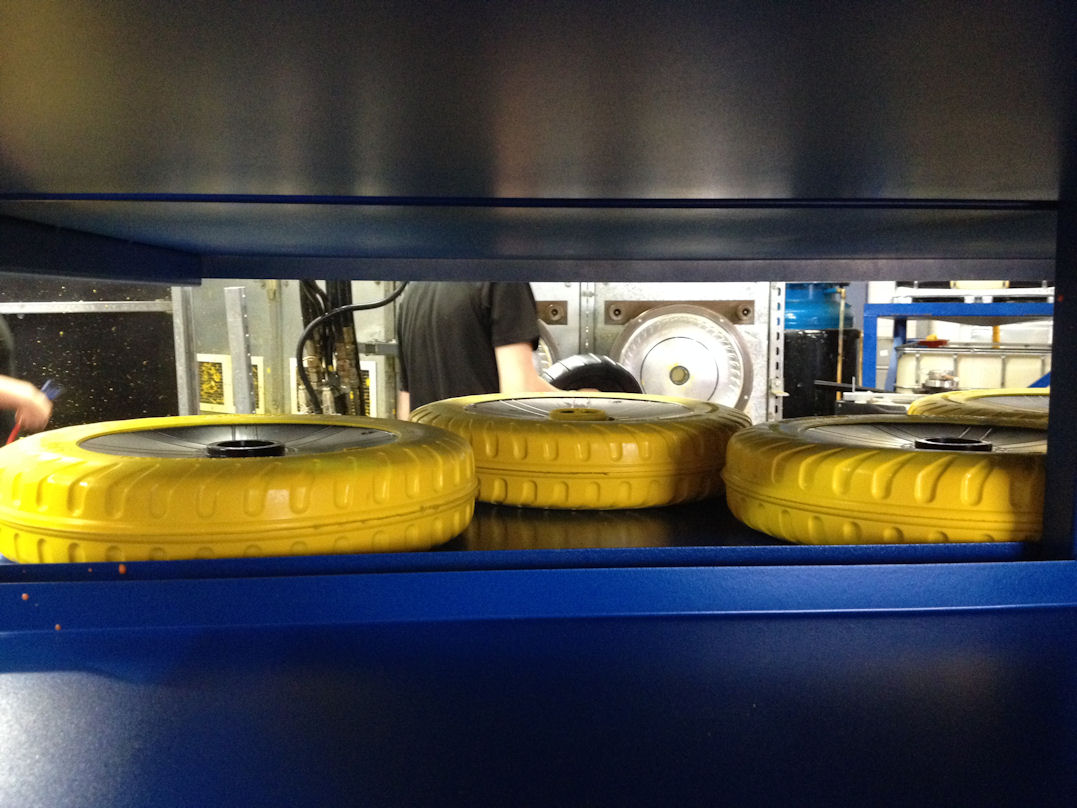 We've grown accustomed to seeing production capacity taken out of Europe and relocated to countries where costs are lower. Although STARCO transferred its GS wheel production from Switzerland to Croatia in 2015, the company is very pleased with the performance its tyre and wheel plant in the UK is delivering. It reports that June was a record-breaking month for the factory in Crewe, with a total of 46,000 tyres produced. Furthermore, STARCO says orders for Crewe-made products are on the rise.
Although price pressure from competitors in China impacts upon STARCO's competitiveness, the company considers automation, quality, flexibility and short delivery times more than a match for low labour costs. A new investment in Crewe to the tune of £130,000 was announced earlier this year, and new robotic equipment recently installed in order to increase the level of automation in the plant. Mike Andrews, manager of STARCO's Crewe factory, considers the facility competitive on many parameters.
"We are consistently and constantly looking at materials and processes to improve our competitiveness," he shares. "Today, our actual production time of the polyurethane tyre is 80 seconds due to our unique, patented manufacturing process where the polyurethane foam is moulded directly onto the plastic wheel."
STARCO's UK plant began manufacturing the Flex Pro puncture-free wheelbarrow tyre in 2006, the Flex Lite in 2011 and the Flex iCore in 2014, and since the introduction of these products the concept of puncture-free tyres has been adopted by many manufacturers and aftermarket distributors worldwide. "Cheaper products keep popping up, but they don't match STARCO's quality or reliability," the company states.
"We are alert and aware of the cheaper options, however we are quite confident in our wheel and tyre solutions for wheel barrows, and we have very strong relationships with market-leading manufacturers throughout Europe," elaborates Henno Plaggenborg, STARCO segment director for Light Transportation. He adds that STARCO isn't interested in adjusting its quality in order to compete with cheaper manufacturers on price, and this approach is paying off; Plaggenborg says customers that switched to low price competitors several years ago are now returning to STARCO and willing to pay a little extra for "better quality and stronger compliance process of European legislation related to health and environmental protection."
The polyurethane material used in the STARCO products is well suited to use in tyres as it is light and hard wearing, and offers good shock absorption and fantastic resistance toward chemicals, ozone and ultraviolet damage. The Flex Lite currently accounts for 25 per cent of the puncture proof tyres STARCO manufactures, however interest from the market indicates a potential overtake by the newer STARCO Flex iCore.
While the Crewe factory also serves other industries, its main focus is on wheels and tyres. In 2015, 60 per cent of the operation's turnover came from wheels with polyurethane tyres, and STARCO expect the proportion to reach 80 per cent this year and increase even further in the coming years.