AlloyGator launches Save My Alloys competition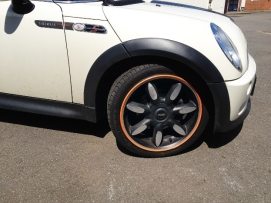 To coincide with this year's National Pothole Day (today – Monday 16 January), AlloyGator is launching a special competition to save drivers from having to put up with unsightly scuffed and scratched alloy wheels on their prized motors, often caused by potholes and kerbs.
The 'Save My Alloys' competition will give motorists the opportunity to bag a set of fully fitted super-tough nylon AlloyGators to smarten up their damaged alloy wheels and also protect them from future unfortunate pothole and kerb related encounters. All entrants will need to do to be in with a chance of winning the fantastic prize is post a picture of their sorry looking alloys to the AlloyGator Facebook page or post to Instagram with the tag @alloygatorofficial.
"The deteriorating state of the country's roads has become a big problem for motorists in recent years with potholes becoming ever more difficult to avoid. We've seen an increase in enquiries from frustrated drivers who have had to pay out for alloy wheel damage caused by potholes and want to avoid it happening again," commented Curt Rathbone, managing director at AlloyGator.
"National Pothole Day does a fantastic job of raising awareness of the growing pothole crisis that is blighting our roads and it's a campaign which we fully support. Unfortunately, however, for thousands of drivers the damage has already been done and we hope that through our new Save My Alloys competition we will be able to help those drivers spruce up their alloys that have already been damaged and help to protect them in the future."
Pothole related damage cost motorists £684 million in 2015, according to tyres and parts specialist Kwik Fit, with recent figures suggesting a 14-year backlog of pothole repairs needed on UK roads.
The Save My Alloys campaign will run from the 16th – 31st January.