Traffic jam? Take to the river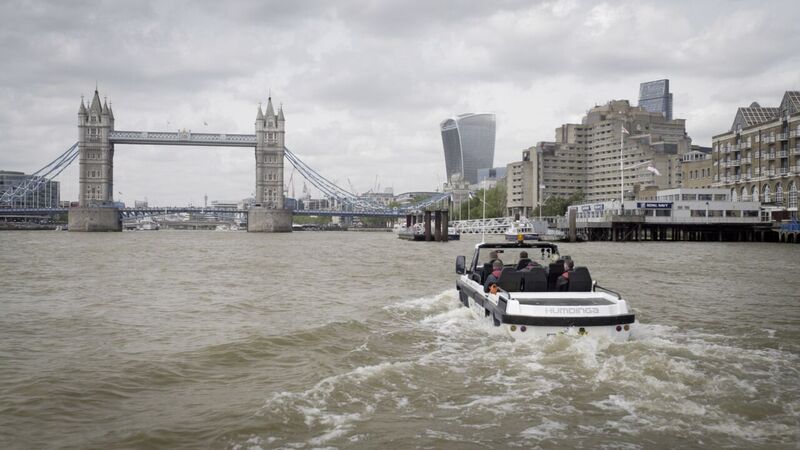 Gibbs Technologies recently took to the Thames to embark on an exclusive demo to showcase its High Speed Amphibian (HSA) vehicles. Before potential licensees, Gibbs demonstrated its Humdinga, as the first ever high speed amphibian river taxi application.
The demonstration, which took place with the back drop of the O2 and Canary Wharf, saw Gibbs showcasing four of its most exciting vehicles. With prospective licensees observing the live demonstrations, the open water on the Thames allowed the vehicles to perform to their full potential, showcasing the state-of-art technology.
Gibbs Technologies is currently in discussions with a potential licensee to allow them to produce the Humdinga vehicle in what will be the first ever high speed amphibian river taxi, which could change and evolve the landscape of transport in London. The other three high speed amphibians that formed the other parts of the demonstration were the Aquada (sports car), Quadski (quad bike) and the newest addition to the Gibbs fleet, Terraquad (utility 4×4).
Gibbs Technologies is the pioneer of High Speed Amphibious technology and the world's first to successfully engineer vehicles that can exceed 30 mph on water, as well as achieve normal speeds on land and transition between the two in under 5 seconds, at the push of a button. This unique combination of innovations from several engineering disciplines and vision for useful user friendly technology has given Gibbs the lead, along with over 200 patents worldwide, and makes it the world authority on High Speed Amphibians.
Neil Jenkins, chairman of Gibbs Technologies Ltd said: "We are delighted to have had the opportunity to show our vehicles here as it really does allow us to demonstrate the technology in all of our vehicles and shows their value to potential licensees.
"We are very excited to be in talks with a number of potential licensees worldwide, but particularly, businesses in the UK with a view to developing the first ever high speed amphibian river taxi which could truly revolutionise transport in London and, of course, other major riverside cities."