Hankook talks OE tyre development for Europe, presents Ventus Prime³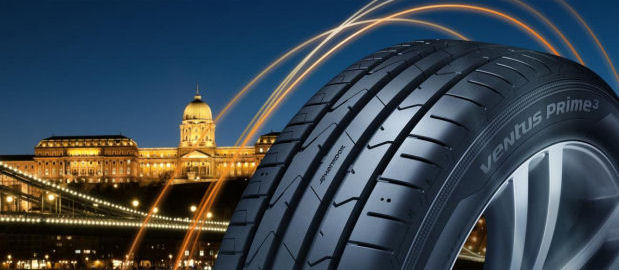 The choice of Hungary, home of its European manufacturing base, as the location for this month's 'Ventus Experience' media event underlines Hankook Tire's growing focus on original equipment supply within the region. In addition to introducing the Ventus Prime³ comfort tyre, during the event Hankook Tire showed the fruits of recent investment in its factory in Rácalmás, and shared how the facility is helping it meet the requirements of European vehicle manufacturers.
Twice expanded since entering operation in 2007, the Rácalmás plant now not only has the capacity to produce 19 million car, SUV and light commercial vehicle tyres a year; the most recent expansion of the facility also included the installation of test equipment specifically intended to aid the development of new tyres for OEM customers. When visiting Rácalmás, Tyres & Accessories saw two units, the Flat-Trac and Indoor Wear Simulator, in action.
Flat-Trac is produced by MTS Systems Corporation and is suited for testing all kinds of tyres, however according to a Hankook tyre tester its main purpose in the Rácalmás facility is to "support the development of premium original equipment tyres," such as those Hankook supplies to Porsche BMW, Audi and Mercedes-Benz. Prior to the unit's installation in Rácalmás last year, tyres had to be shipped to Hankook Tire's R&D facility in South Korea. This arrangement was less than optimal for Hankook's blossoming European OEM business – development times need to be minimised when working together with a vehicle development team, and this isn't an easy feet when trying out multiple versions of a tyre from halfway around the world. Therefore the installation of a Flat-Trac unit within Hankook's European manufacturing facility was deemed "essential to developing for the high-end European OEMs."
At the time of Tyres & Accessories' visit, the Flat-Trac was testing a Sealguard self-sealing tyre model (see textbox for more information) destined for supply to Volkswagen. The unit is able to dynamically check tyre characteristics at speeds of up to 200km/h and at different camber angles, different slip angles and in varying load conditions. "This replicates the range of conditions encountered when driving a car," commented the tester. "Based on the data provided by Flat-Trac, tyre engineers can make changes to a tyre's characteristics or structure, and we can use the data to predict a tyre's behaviour in actual road conditions." He added that after analysing test results, further simulations can be performed without the need for testing, allowing many versions of a tyre to be evaluated using computer simulation software.

The Indoor Wear Simulator began operating in January 2016 and is also seen as a way of speeding up the development of original equipment tyres, particularly the development of tread compounds. Each wear performance test cycle takes around 17 hours and draws upon data from a 'drive file' that contains information recorded by in-car sensors during outdoor tyre testing. "Based on this data, the drive file our engineers develop for testing with the Tyre Tread Wear Simulator is completely the same as actual driving conditions," the tester explained.
A third machine, which Tyres & Accessories did not see, is the Circumferential Treadware Imaging System, or CTWIST. This checks wear prior to and after testing and can also predict irregular wear, shoulder wear and heel and toe wear. CTWIST is mainly utilised for testing tread compounds. "It is very useful for internal testing. Premium car makers always request new compounds, therefore I think this machine will be very busy," commented the tester.
It's very likely that all three machines will be busy – Hankook Tire's portfolio of OEM supply deals with European car makers has swollen in recent times. Keynote agreements include delivering the Hankook Ventus S1 evo² SUV for fitment on the Porsche Macan and Mercedes-Benz GLC, the homologation of the Ventus Prime² SealGuard for the Volkswagen Touran, and the recently-announced approval of the Ventus S1 evo2 and i*cept evo for the BMW 7 Series. Globally, Hankook Tire has more than 250 original equipment supply agreements with 26 vehicle manufacturers.
"We've been more or less forced by our original equipment programme to invest heavily in all countries and in all regions, and a lot of investments that will be finalised in the coming months and years will give the company more opportunities for further sustainable growth," shared Felix Kinzer, director of Hankook Tire Europe.
Ventus Prime³ – Hankook's new flagship comfort tyre
So far no original equipment deals have been announced for the latest Hankook tyre to be released in Europe, but we can certainly expect them at a later date. An early portent of the bright future awaiting the Ventus Prime³ came in March, when it won the annual summer tyre test carried out by German car magazine Auto Bild. The Hankook tyre beat 49 other size 205/55R16V tyres to achieve this victory.
The successful Ventus Prime name has been carried into the range's third generation with the release of this successor to the Ventus Prime², a tyre that gained original equipment approval on a number of cars in the past few years. Hankook claims its new top-of-the-range comfort tyre was developed for European roads and delivers approximately eight per cent better wet braking and three per cent greater dry braking performance over the predecessor tyre, along with nine per cent more wear resistance.
Ventus Prime³ in the wet: According to Hankook Tire, "improving the tyre's braking abilities in wet conditions was a pivotal point where Hankook engineers made progress in developing the next generation of Ventus Prime products." The tyre maker reports that the use of a new high grip silica compound in connection with the application of a new mixing technology allowed for "a significantly better dispersion of polymers and fillers within the tread compound." This is said to be the factor behind the aforementioned eight per cent improved wet braking performance, and it also helped lower rolling resistance.
Removal of water from the tyre's contact patch is aided by four circumferential grooves in the tread pattern; Hankook explains that these provide resistance against aquaplaning and improve wet weather control characteristics. Furthermore, the tyre maker states that the "trade-off effects between wet and dry performance" have been minimised in the Ventus Prime³ thanks to the positioning of "specific individual lateral groove depths."
Ventus Prime³ in the dry: The design of the asymmetric Ventus Prime³ tread pattern has enabled a ten per cent enlargement in contact patch area. This, says Hankook, helps the tyre's dry performance capabilities: "This, together with an improved tread stiffness for both lateral and radial directions in combination with the solid outside shoulder and hybrid hardness design of the outer tread ribs, allows for a superior dry handling performance." As well as achieving a three per cent improvement in dry braking, the manufacturer reports that traction is facilitated through the adaption of chamfered grooves surrounding the tread; these cause an "instant widening effect" of the contact area during braking.
Other characteristics: The nine per cent improvement in wear resistance that Hankook achieved with the latest generation of tyre comes courtesy of a new tread compound that is said to contain "newly-developed functionalised polymers with a high molecular weight." Under the skin, the Ventus Prime³ features a rayon casing (Hankook describes it as state-of-the-art and lightweight), a wide steel belt layer package covered by a jointless full cover reinforcement belt and a high stiffness bead filler. These qualities reportedly contribute to better handling, more precise steering response and a high level of controllability, even at high speeds.
Exterior noise is kept down by a combination of an optimised pitch design, improvements to the angles at which the lateral tread grooves are positioned (Hankook Tire says that its development engineers were able to "significantly reduce" Ventus Prime³ tread pattern noise in both new and worn states through the "application of a new groove positioning technology."), and an "anti-air resistance" sidewall. And to combat uneven wear, the Ventus Prime³ features the Visual Alignment Indicator (VAI) system found on all Hankook Ventus products. This shoulder-based feature provides drivers with a straightforward method of checking wheel alignment.
The Ventus Prime³ is predominantly produced in the Rácalmás plant in Hungary, and is being rolled out in 53 sizes for 15 to 18-inch rim diameters. Tread widths range between 185 and 245mm and aspect ratios from 40 to 65 series. The tyre is available in H, V, W and Y speed ratings.
stephen.goodchild@77.237.250.82