Southampton City Council saves 10% Michelin tyres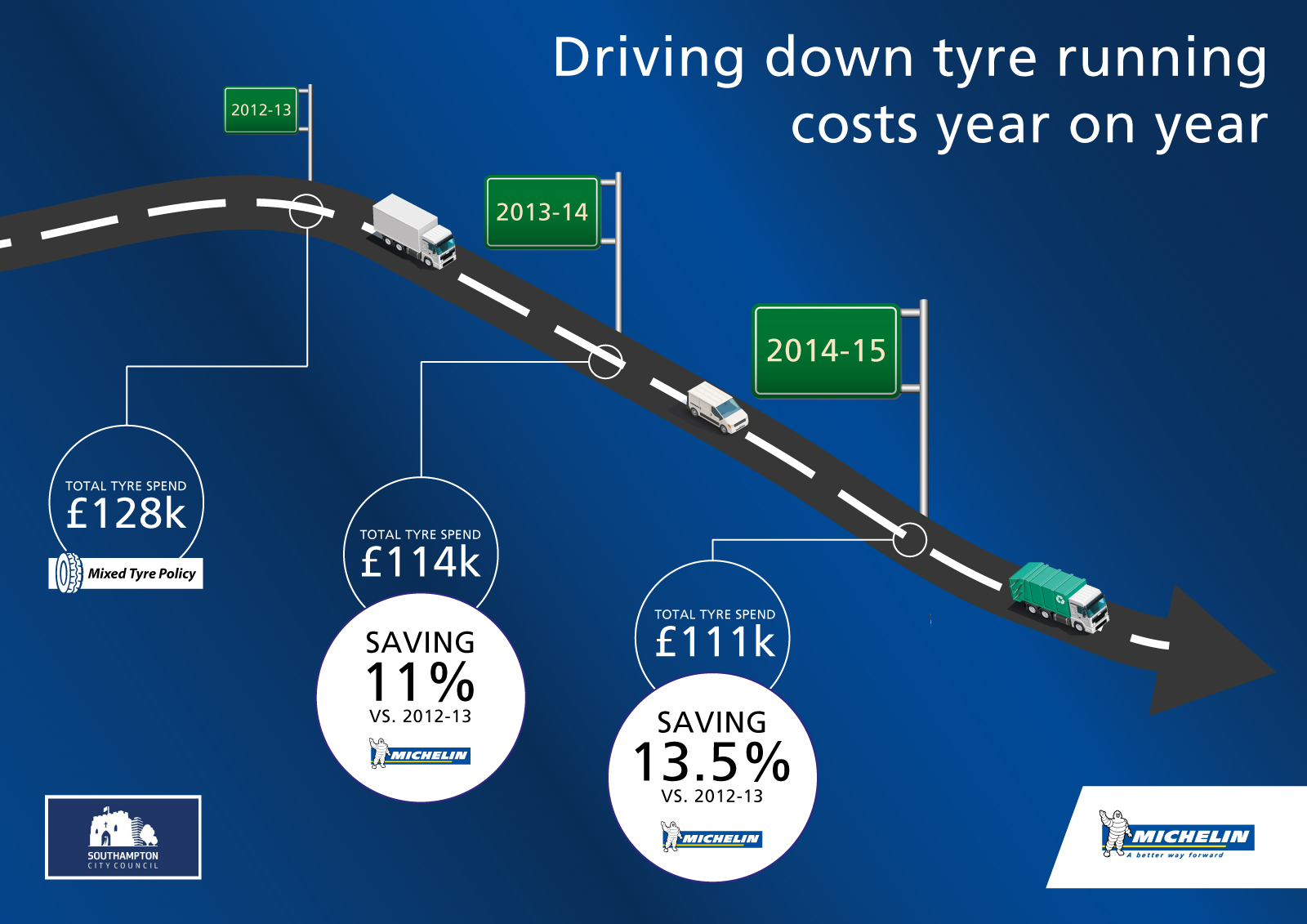 Officials at Southampton City Council have reportedly shaved more than 10 per cent off the annual tyre bill for their 460-strong fleet after a move to fitting premium Michelin tyres has extended replacement intervals.
The decision to fit Michelin began in April 2013 and saw an immediate tyre spend reduction of 11 per cent for the year 2013-2014, versus the previous policy, which had seen a mixture of different brands fitted. In the following year, 2014-2015, Southampton City Council's tyre spend dropped by nearly three per cent more, as greater numbers of Michelin tyres were rolled out.
In total, tyre expenditure has dropped from £127,807.87 in 2012-2013, to just £110,656.43 in 2014-2015, with savings projected to continue into 2016.
The council runs a total of 360 vans, 37 refuse collection vehicles (RCVs), 17 heavy goods vehicles, 13 minibuses, six road sweepers and four cars – which are each included on the policy and deliver vital services across the city.
Southampton City Council's fleet services systems administrator, Alfonso Mata, explained: "All local authorities are working hard to maximise value from their budgets and fitting Michelin tyres on the Crown Commercial Service (CCS) framework has delivered noticeable savings to our fleet running costs. We're getting improved longevity and durability from every Michelin tyre we fit; it's particularly noticeable on the RCV fleet, which is arguably the toughest on tyres.
Michelin is an approved supplier to Southampton City Council under the CCS tyre purchasing framework agreement. The CCS works to provide savings for customers in both central government and the wider public sector by negotiating commercial relationships as a single organisation.