Kabat Group plans further growth through retreading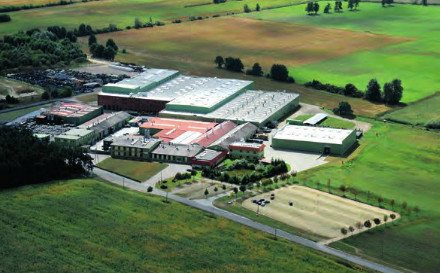 Benefits of retreading not always understood in slow-growing Polish market
It's never easy for a market leader to generate additional growth, but entering into a related business area that draws on existing expertise offers potential. Brothers Andrzej und Tadeusz Kabat have been certain of this in recent times. After a quarter century in which their Kabat Group has become an established force in the European inner tube market and has developed a name for itself in the manufacture of rubber compounding and technical rubber products, last year the company took its first steps in a whole new area: It has started producing agricultural tyres and plans to introduce industrial tyres by next year at the latest. In addition, since acquiring the former Stomil production facility in 2012, the Kabat brothers have become one of Poland's largest retreaders – and plan to grow this business further.
Poland's Kabat Group can look back upon a history that stretches more than 30 years. Brothers Andrzej und Tadeusz Kabat lent their surname to the brand-new business in 1983 and over the following years built it up into one of Europe's largest inner tube manufacturers. In 1995 it inaugurated a new factory in Budzyń, 40 kilometres north of Poznan; the company enjoyed a further growth spurt after acquiring the entire plant equipment from the Goodyear-Debica inner tube factory in 2007. Today Kabat produces seven million inner tubes, 15,000 tonnes of rubber compound and large quantities of rubber mats for automotive and industrial applications – this gave the company an annual turnover of 42 million euros in 2013, 80 per cent of which was generated in export markets. The company justifiably sees itself as "Europe's largest inner tube manufacturer" and holds a market share of up to 40 per cent, shares Andrzej Kabat when speaking with Tyres & Accessories.
Last year the Kabat Group directed significant investments towards expansion, and with a total investment of some 5.5 million euros the Budzyń-based firm set itself up to produce agricultural tyres. The range, and output, is admittedly still small, however the Polish company already offers eight different treads. Next year the company hopes to sell two million agricultural tyres under the 'Kabat' brand name, including 38-inch radials for larger tractors.
But that's not all: According to Andrzej Kabat, plans are afoot to tackle a further major project during the course of this year: The manufacture of industrial tyres. While initial production from next year will include around 50,000 solid tyres, pneumatic industrial tyres are already on the drawing board, the company owner adds. The details of this product are currently being worked out.
In contrast to these decisions to expand the company's activities into new business areas, Andrzej Kabat says it has also been decided that the company will strive to grow in a business it is already familiar with. In 2012 the owner of the former Stomil retreading operation, which is located in Owińska (north of Poznan) and privatised since 1995, wished to sell the business. The Kabat brothers – regular suppliers to Stomil for many years – spotted and leapt upon a favourable opportunity for additional growth. They purchased the facility and rebranded it as ATK-Retreads Polska, the acronym ATK standing for the initials of Andrzej and Tadeusz Kabat.
The Polish retreading market, like the wider European market, appeared large enough for the company and seemed to offer sufficient potential for further growth. And the acquisition brought the brothers' business full circle to a certain extent. Andrzej Kabat reminisces that prior to their large-scale entry into inner tube and rubber compound production in the 1980s, the brothers repaired tubes and tyres and also engaged in passenger car tyre retreading on a small scale. This retreading ceased in 1992 and a focus was placed upon the Kabat Group's core business.
Since acquiring the former Stomil retreading operation, the new owners have continued to develop the site. Piotr Myszkowski, president of ATK-Retreads Polska, tells Tyres & Accessories that the company solely retreads truck tyres and that the output from its 110-strong workforce is around 40,000 pieces a year. Retreading has been carried out at the site since 1948 and in the early years this was exclusively mould cure retreading, with pre-cure retreading introduced at a later date. Myszkowski says that these days, pre-cure retreading accounts for one-fourth of total production. Kabat's quarter century of experience in the production of rubber compounds enables ATK-Retreads Polska to manufacture all the treads required for its own production. This means that when it comes to quality, the company needn't hide behind third-party suppliers, adds Andrzej Kabat.
As would be expected, the rubber compound for ATK-Retreads Polska's mould cure retreading is also exclusively supplied from parent company Kabat and the firm is thus to a large extent self-sufficient in its provision. And although Poland and many other Eastern European countries are strong pre-cure retreading markets, Kabat's high rate of exports (85 per cent, mostly to Western Europe) and growing demand at home means Kabat aims to expedite its mould cure retreading and invest in this process. Currently, 30 per cent of the 250,000 truck tyres retreaded each year in Poland are mould cure retreads.
At present, 30 presses operate in Owińska. In autumn an additional four modern, Italian-made presses will join these, comments Piotr Myszkowski. These presses will enable bead-to-bead retreading, a process that customers increasingly demand.
It is evident, as mentioned above, that ATK-Retreads Polska is heavily export-dependent. This should change in the future, but ideally this readjustment of sales conditions should involve a growth in the share of retreads sold in Poland and not a decline in the share of exports.
The brothers admittedly concede that growth within the Polish tyre market won't be easy to achieve, and they are well aware of the ins and outs of their home market. While retreads hold around 50 per cent of the truck tyre replacement market in Western Europe, the current 25 per cent share in Poland shows the market there has some catching up to do. What's more, even though this ratio suggests the casing situation must surely be better there than in other countries, ATK-Retreads Polska doesn't always find it easy to acquire good, retreadable casings.
Andrzej Kabat says the blame for this often lies with misunderstandings still prevalent amongst many Polish end users: A comprehensive knowledge of the benefits of good retreading remains a rarity, new tyres are driven down to the ply cords and – if not already complete scrap – they're resold as used tyres. Furthermore, the company owner concedes that not all the 30 or so retreaders in Poland ooze quality. While perhaps a quarter of the Polish retreaders can boast a respectable scale of operations and have internationally-recognised businesses, the remaining three quarters manufacture solely for their small, local markets. Some retreaders in Poland slow the rate at which the sector's reputation is improving and are also the reason why demand for retreads, particularly from smaller fleets, is only growing timidly. In this regard, the president of ATK-Retreads Polska believes his company has a responsibility to continually work – whether by contact from field representatives or via trade shows – to improve the overall image of retreading in Poland. This sense of responsibility, at any rate, can be observed in the company's own production; ATK-Retreads Polska operates not just a modern shearography facility and prefers to utilise top-quality casings, it also works according to ECE-R 108/109 standards as a matter of course.