ISO 14001, OHSAS 18001 certification for Sumitomo's tyre factory in Brazil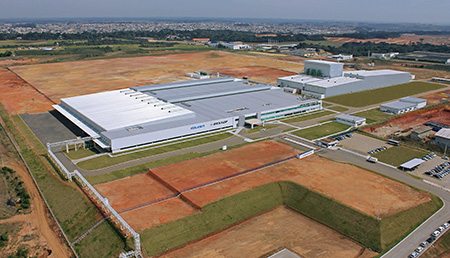 The Sumitomo Rubber Group's first tyre factory in Latin America has been awarded both the ISO 14001 Environmental Management System Standard and the OHSAS 18001 Occupational Health and Safety Standard. Certification of the Sumitomo Rubber do Brasil Ltda passenger car radial plant in Fazenda Rio Grande, Paraná state took effect on 30 September 2014. The accrediting body for both certifications was Lloyd's Register Quality Assurance (LRQA).
The Sumitomo Rubber Group obtained ISO 14001 Global Integrated Certification in 2010 and, with the addition of our Brazil Factory, the company has now obtained ISO 14001 certification for 31 of its facilities, including ten of its overseas factories. In addition, our Brazil Factory is also the group's sixth location to receive OHSAS 18001 certification.