Renfrew tyre fire under control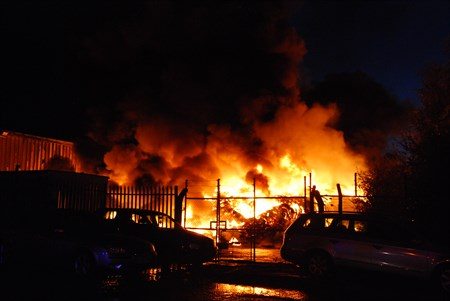 According to an update posted by Scottish Fire and Rescue Service at 10:35am, around 30 firefighters remain in attendance at a blaze in Renfew, near Glasgow. A "large quantity" of tyres caught fire yesterday evening and Scottish Fire and Rescue Service has been on the scene since 10pm; at the height of the incident, 15 appliances and approximately 75 firefighters were involved.
"Crews working through the night successfully brought the fire under control but this is a protracted incident – firefighting operations are continuing and will likely be ongoing for some time," reported group manager William MacDonald, incident commander at the time of the update. "We currently have two high volume pumps and four standard appliances in attendance. All relief crews are now in place with about 30 firefighters still on scene."
The fire is believed to be at the premises of Renfrew Car Breakers in Meadowside Street, a company whose activities include the sale of part-worn tyres.