Nokian expands winter portfolio in 80th anniversary year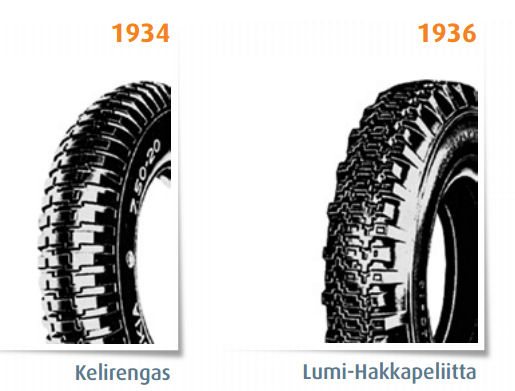 Eight decades after Nokian Tyres introduced its first winter tyre, the Finnish company has announced the addition of five new products to its winter range. Three new tyres have entered the Hakkapeliitta line-up; all three, the studded Hakkapeliitta 8 SUV and the Nokian Hakkapeliitta C3 and Hakkapeliitta CR3 van tyres, are designed for use in Nordic conditions. Nokian has also expanded its Nordman range.
Nokian says the Nokian Hakkapeliitta 8 SUV brings grip and durability "like never before" to winter roads. Grip is aided by the 'Nokian Eco Stud 8' concept, which was first used in the Hakkapeliitta 8, and Nokian says materials used by the aerospace and defence industries optimise the new tyre's durability.
The studded Nokian Hakkapeliitta C3 makes everyday life easier for heavyweight professionals, opines the tyre maker. Nokian claims "supreme mobility in harsh winter conditions", balanced grip and a stable driving feel. The non-studded Hakkapeliitta CR3 offers excellent winter grip and driving comfort, Nokian shares. The tyre uses the Nokian Cryo Crystal concept, which is already employed in the Nokian Hakkapeliitta R2 passenger car tyre, to provide a sizeable increase in winter grip.
In addition to the three Hakkapeliitta tyres, Nokian is also supplementing its Nordman family by introducing the Nokian Nordman 5 and Nokian Nordman 5 SUV studded tyres for the B market segment.
"We are extremely happy about the enthusiasm that consumers have shown our new generation of Hakkapeliittas, which offers winter safety like never before," says Kim Gran, president and CEO of Nokian Tyres. "Our success in magazine tests was also astounding. Nokian Hakkapeliitta 8 passenger car tyre has won all but one of the magazine tests in the Nordic countries and Russia. The new products being introduced now utilise the same state of the art technology. These new winter products are the most modern in their fields, and their entire ranges will be available to new user groups during the autumn season of 2014."
80 years of winter tyres
The growth of Nokian's winter range coincides with what the tyre maker claims is the 80th anniversary of the introduction of the world's first winter tyre. In 1934, Nokian Tyres introduced the Kelirengas – 'Weather Tyre' – for trucks. Two years later, Nokian's engineers came up with a new solution for drivers of early passenger cars: the Lumi (Snow)-Hakkapeliitta. This tread pattern introduced on this tyre remained a Nokian feature until the 1950s.