MP visits NAMA member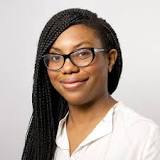 Kemi Badenoch MP visited National Association of Motor Auctions (NAMA) member, Aston Barclay Car Auctions in Chelmsford on Thursday 26 July.
Kemi Badenoch, who is member of parliament for Saffron Walden, was on a site visit to gain a better understanding of how motor auctions are operated and see the employment and business opportunities available in the sector. It was also an opportunity for her to see the significance of the site to the local economy.
Louise Wallis, head of NAMA, highlighted to Kemi Badenoch a number of industry issues, including Brexit, diesel, mileage fraud and debit card charges which are costing the industry almost £1.8 million a year.
In addition, discussions were also held around the Government's Road to Zero Strategy which was published earlier this month by the Department for Transport (DfT). The report highlights the government's support for the Energy Saving Trust to deliver dealer training, and plans to work with NAMA to publish electric vehicle guidance for sellers, dealers and auction houses.
Louise Wallis commented, "The visit provided an opportunity for Kemi Badenoch to find out more about Aston Barclay, and the importance of motor actions to the UK economy."