Toyo exhibits global racing pedigree with Ken Block, BJ Baldwin at Tokyo Auto Salon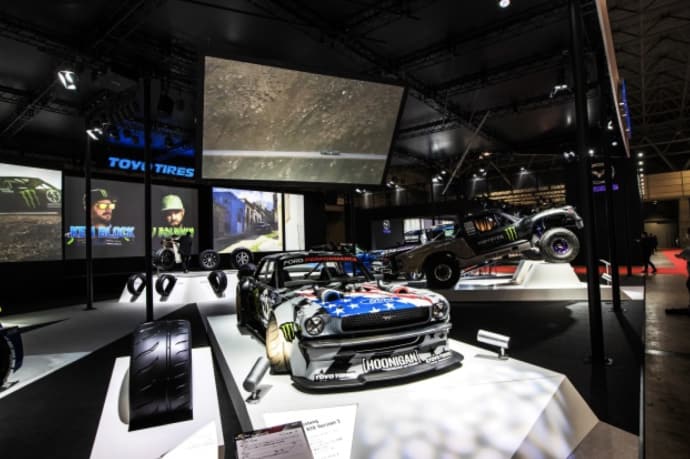 Toyo Tire & Rubber Co kicked off its year at the annual Tokyo Auto Salon in mid-January at Makuhari Messe in Chiba City. Exhibiting its eponymous and Nitto brands, the tyre manufacturer presented its motorsport pedigree with guests Ken Block and BJ Baldwin, while Toyo Tires president, Takashi Shimizu, and managing director, Tomoshige Mizutani, were on hand to talk about the company's history and North American automobile culture. President Shimizu talked about the future vision of both tyre brands, noting specifically the desire to "demonstrate our unique presence in the market with a premium lineup that pleasantly surprises consumers in line with the trend of pickup trucks and SUVs" based on the current trends in Japan and the global markets.
Ken Block and BJ Baldwin appeared as special guests after the corporate level presentation. Both stars have built up a global following, with Toyo supplying Block's tread for Pikes Peak competition and BJ Baldwin's Baja 1000 Open Country tyres. President Shimizu stated: "We are proud to have the two of them who race in extreme conditions trust and use our tyres."
The latest Proxes and Open Country tyres were also part of the Toyo Tires Collection displayed at the event, with Block and Baldwin answering audience questions about their private cars, future plans, thoughts on coming to Japan, driving techniques, and the YouTube videos that have helped make them globally famous. Block also gave a live drifting demonstration on the same day in a Ford Fiesta RX43.
The Toyo Tires booth this year sported a revamped image and showed off a more global side of its brand; using authentic American pickup trucks, EuroSports, and SUVs built for racers, the event showcased vehicles that are noteworthy for being rarely seen in Japan.
At the Nitto booth, cars with distinct American characteristics such as those that appeared in the toughest off-road race in the United States (KOH, King of the Hammers) as well as the Dodge Challenger that appeared in the movie Wild Speed were exhibited.