Manufacture locally and eliminate transport costs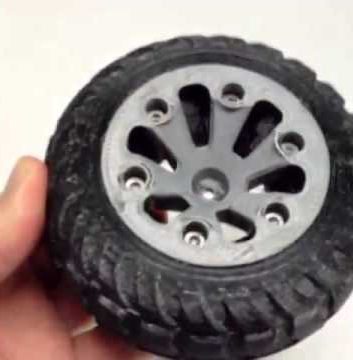 Numerous tyre makers have or are in the process of setting up factories within regions where they aim to sell their products. Decentralising their manufacturing footprint reduces the time and cost involved in delivering tyres to retailers and end users. A new breakthrough from a British company promises to advance this approach a step further.
"It only takes eight minutes to warm up," states Hector Goodrich, CEO of Hull-based start-up Solida, while showing off the very first model of the company's inaugural product, the PrinTyre. "Once the process begins, the end result is ready to roll in the time it takes to brew a decent cuppa."
Goodrich, who is in no way affiliated with the tyre brand he shares his surname with, presses a button and then, true to his word, fills the kettle, adds three teaspoons to a waiting pot and glances at a nearby clock. By the time he's ready to add milk and sugar, a brand-new tyre has been created. Depending on size and application, PrinTyre can produce between four and seven passenger car tyres an hour, and it only takes slightly longer to turn out specialised ATV and two-wheel tyres.
PrinTyre utilises 3D printing technology to significantly shorten the supply chain. Whereas the traditional path to market sees tyres leaving the factory and shipped by container to a wholesaler before being sent to dealers by express delivery, truck or container, the PrinTyre can obtain brand, pattern and size information from a Cloud database and instantly produce a tyre based on this. In theory, a customer can order any tyre dimension in existence and drive away on it within minutes.
According to Goodrich, two premium tyre manufacturers are eager to work with Solida and are negotiating terms under which they will provide their patterns for printing. The CEO says several budget brands have also expressed interest in doing so as well, albeit for a more competitive price. The R&D team at Solida is currently working to adapt the PrinTyre concept to truck tyre retreading.
Tyre dealers interested in purchasing a PrinTyre are invited to contact Solida for prices. While Goodrich comments that "new technology doesn't come cheap," he adds that the all-inclusive PrinTyre contract covers service costs and includes refill tyre compound cartridges for the first 12 months. Further information can be found here.