Tag: Tread wear
In 2012 the EU introduced plans to support consumers with better information about a tyre's noise, wet-braking and rolling resistance performance. Since then, Japanese, South Korean and US variants have been either mooted or implemented. However, the world's largest tyre market (China), is also close to releasing its own labelling system – or should that be systems? Tyres & Accessories saw two labelling variants during the recent Tire+ exhibition in Shanghai and discussed the subject with a number of firms exhibiting there.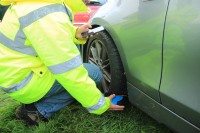 Sigmavision has announced the findings of a recent survey conducted in collaboration with Bridgestone and First Stop at the recent Sky Sports British Masters golf event. The company's technicians surveyed 2,400 cars over two days away from the fairways and greens at The Grove, measuring tyre tread depths with Sigmavision's TreadReader handheld scanners. The results of the survey back up Bridgestone's hypothesis that motorists currently do not make the regular checks necessary to ensure their tyres are safe.
Shangdong Hengyu Technology has become the latest tyre manufacturer to announce that it is making tyres based on the Nobel Prize-winning material graphene. Other firms using graphene in tyres include bicycle tyremaker Vitorria and fast-growing Chinese manufacturer Sentury Tire. According to the company supplying Hengyu with Graphene (The Sixth Element Materials Technology), Shangdong Hengyu has developed "tyre formulations" that the companies say demonstrates the positive impact of graphene on the performance of tyres.