Tag: Track Adrenaline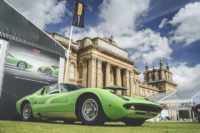 Pirelli has launched its Track Adrenaline UHP tyre sensorisation and virtual tyre technician technology. The launch took place on 6 September at the exclusive Salon Privé supercar garden party at Blenheim Palace in Oxfordshire. 2019 marks the fifth year running that Pirelli has sponsored Salon Privé. With Pirelli equipping more than 50 per cent of prestige cars all over the world, many of the vehicles seen at Salon Privé ran on the Italian rubber.
Track Adrenaline is a new product from Pirelli's Cyber Technologies department, which was launched at the Geneva Motor Show roughly a month ago. Pirelli says this system is aimed at "absolute petrolheads only", which is why – for the time being at least – it is only available on P Zero Trofeo R tyres.