Tag: responsive design
More and more people are using mobile devices to access the Internet. According to figures from statistics service StatCounter, since October 2016 smart phone and tablet access to the Internet has predominated worldwide – and the tendency is growing. Yourtyres.co.uk has adapted itself to this change in user behaviour, recently unveiling a new, modernised look: Delticom's online shop for workshops and wholesalers has now been recreated in "responsive web design", meaning it is now optimally displayed on mobile devices. Responsively designed web pages adapt their design to the respective screen size, so that content is still clearly identifiable even in small spaces such as smart phone screens. So even if you are accessing Yourtyres.co.uk from your smart phone, searching for car, motorbike, truck and custom tyres, complete wheels and rims, or accessories and spare parts remains easy and clear. Particularly convenient is the option to search using the manufacturer key number or model code number from the registration certificate.

In January this year, Maxam Tire, the specialist manufacturer of OTR, construction, industrial and agricultural tyres, launched an App for devices working under the Android operating system. Now the company has launched a new, responsive version for all Apple devices.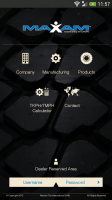 Maxam Tire, the specialist manufacturer of OTR and industrial tyres, has launched a new version of its app for all devices working under the Android system, such as Smartphones, Tablets and Phablets. It complements the existing Maxam app for iPad and incorporates the same features.