Tag: repair information
E3 Technical, software and staff supplier to online automotive reference company Carweb, has been acquired by HaynesPro, the professional data solutions business of Haynes Publishing Group plc. (Haynes). The move will strengthen Haynes' online technical data presence in the UK, according to the company. HaynesPro is the European market leader for online automotive workshop data for the automotive aftermarket. Serving more than 50,000 workshops through its European partners, it has been collaborating with Carweb since 2009. Darryl Watts, formerly E3 technical sales director, has become the new managing director of HaynesPro UK.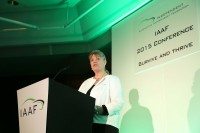 Wendy Williamson, chief executive of the Independent Automotive Aftermarket Federation (IAAF), attended the global 'Right to Repair' conference at Automechanika Frankfurt, hosted by FIGIEFA, bringing together representatives from international automotive aftermarket associations to unite against mutual threats affecting the industry.
Findings from the European Commission's review into the process of access to vehicle repair and maintenance information have been welcomed as 'another major step forward' by the Independent Garage Association (IGA). At the end of 2013, the Commission appointed Ricardo-AEA, a UK based agency, to carry out a study on access to vehicle repair and maintenance information for independent operators, and the results have confirmed the IGA's stance that although the situation has improved in recent years, we are still some distance from a "level playing field".