Tag: letter of intent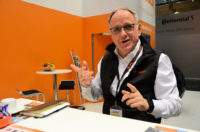 A new investor is coming on board at EATD B.V. The agricultural tyre distributor won't disclose the identity of this new investor until a letter of intent is signed at next week's Agritechnica show in Germany. EATD nevertheless shares its anticipation that the new investor partnership, agreed upon following extensive negotiations, will lead to a "clear course of growth for the company and the Tianli brand".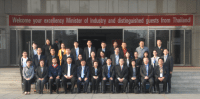 During a visit to China last week, Thailand's Minister of Industry, Atchaka Sibunruang, and representatives from the Industrial Estate Authority of Thailand visited the Zhaoyuan headquarters of Shangdong Linglong Tire and the tyre maker's exhibition space at the China Qingdao International Tire Fair. A meeting also took place on 8 April between the Authority and Shandong Linglong chairman Wang Feng; this resulted in the signing of a letter of intent that will see the tyre maker increase its investment in Thailand through initiating the third phase of its Linglong International Tire (Thailand) plant project, the installation of a rubber compounding facility at the Rayong province site.