Tag: Kenya
The Competition Authority of Kenya (CAK) has approved Michelin's bid to form a tyre distribution joint venture with Toyota Kenya's parent firm CFAO to sell tyres in Kenya and Uganda.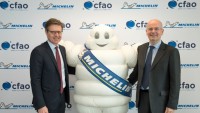 A new joint venture has been set up between Michelin and industrial products distributor CFAO for importing and distributing premium and quality segment tyres into Kenya and Uganda. CFAO holds a 51 per cent share in the new entity and Michelin the remaining 49 per cent. The joint venture's governance is equally divided between CFAO and Michelin.
On Wednesday 8 June, Sameer Africa CEO Allan Walmsley told local newspapers that the firm, which makes Yana brand tyres, would earn higher margins contracting-manufacturing with tyre producers in China and India. No names were overtly mentioned, but an unnamed Indian firm that bid unsuccessfully Sameer during the last year is thought to be a key suitor. No date for the closure of production and transition to contract manufacturing has been given, but judging by the nature of speculation surrounding Sameer's ownership and business in general it is likely to be an ongoing process.