Tag: JSC Voronezh Tire Plant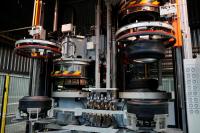 Pirelli Tyre Russia and Rostec have placed their signatures upon a memorandum covering plans to more than double production capacity at the Voronezh Tire Plant in southwest Russia. This agreement formalises the long-held aim of increasing capacity at the joint venture facility from 2 million to more than 4 million passenger car tyres per annum.
At the end of 2015 tyre production of JSC Voronezh Tire Plant (of which Pirelli is the main shareholder) grew by 35 per cent compared to 2014 - that is 1.792 million units against 1.322 million tyres the year before. The news was shared by the firm's general director Yury Gribanov during the ceremony to mark the receipt of Ford Q1 status.