Tag: Garage Essentials
GSF Car Parts reports sales so far in 2017 from the Garage Essentials workshop equipment tooling programme have reached record levels, citing several factors.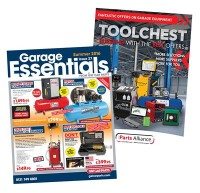 The Parts Alliance has announced that the Garage Essentials equipment brochure, originally developed by GSF Car Parts, will be made available through all members from the next issue (Autumn 2016) due out in October. Since GSF Car Parts joined The Parts Alliance, by acquisition in September 2015, Garage Essentials has continued to showcase the best of what's available from GSF Car Parts' branches whilst Toolchest has done a similar job for The Parts Alliance's other members.