Tag: Chinese imports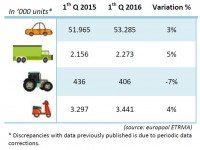 Sales of car, truck and two-wheeler tyres amongst European Tyre and Rubber Manufacturers' Association members increased year-on-year during the first quarter of 2016, however agricultural tyre sales continued to decline.
A sobering message has been issued by the Retread Manufacturers Association – the future of 2,500 employees across the UK's tyre industry is under threat unless something is immediately done to support the local industry. The RMA has spoken out in response to this week's announcement that Tata Steel is to cut 1,050 jobs in the UK - including 750 at Port Talbot, the country's biggest steelworks - as a result of a slump in global demand and cheap imports, particularly from China.
Following on from the second Kraiburg summit, Kraiburg Austria invited its Czech and Slovakian customers to a workshop at the end of September in Cerna Hora in the Czech Republic. During the even the retreading specialist shared its stance on various "pro-retread" campaigns and gave a status report on the ReTyre project, explaining the background behind the impending tyre labelling.