Tag: Bridgestone WeatherControl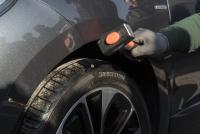 Bridgestone's car tyre business is currently pushing boundaries to offer services beyond replacement tyres to motorists. The most obvious way the manufacturer is approaching this is in the application of its DriveGuard run-flat technology beyond the original line of DriveGuard car tyres. The tyre manufacturer has added DriveGuard RFT to its Turanza, Blizzak and Weather Control lines, extending the availability of the technology to an even greater breadth of the market.
As of November, Bridgestone will make its proprietary DriveGuard RFT (run-flat technology) available on its main product lines for the aftermarket. Specifically, the Turanza, Blizzak and Weather Control tyre ranges will gain DriveGuard fitments.