Tag: Bridgestone VX Tractor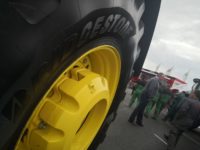 Bridgestone's first nationwide tractor tour, has seen hundreds of farmers assemble and £2,000 donated to local Young Farmers' Clubs. Two John Deere tractors stopped at 10 different locations in Scotland and England to demonstrate the tyre manufacturer's new VX Tractor in a series of comparisons against comparable tyres.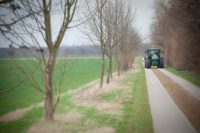 Bridgestone is embarking on a nationwide tractor tour to bring its VX Tractor agricultural tyre to farmers and contractors. The company is rolling into 10 locations across England and Scotland in September with a £200 donation on board. The manufacturer is seeking to generate increased interest and awareness around the product in an agricultural heartland of England, with Bridgestone experts will be on hand to demonstrate its capabilities through presentations featuring comparison test results.