Tag: Alliance Automotive Group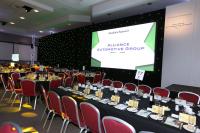 This year, Alliance Automotive UK (AAUK) will return as sponsor of the IAAF Annual Awards and Dinner. The event takes place on 6 December, at The DoubleTree by Hilton, Milton Keynes, and is expected to attract around 600 attendees.
For many years now, the Parts Division (FPS, Apec and BTN) has been an independent division of Lookers PLC, the motor retail group, and has been well supported by them in serving the automotive aftermarket in the UK.
The Alliance Automotive Group has acquired the United Aftermarket Network (UAN) from shareholders Andrew and Rachael Dickinson. As a result of the acquisition, Jim Mazza, the current managing director of Groupauto, will move to a new role of managing director of Alliance Automotive Group UK trading groups. A new Groupauto MD will be recruited, Alliance adds. Andrew and Rachael Dickinson will remain with the business to transfer ownership efficiently, while Phil Dodd will immediately fill the Managing Director's position at UAN. Both UAN and Groupauto will continue to operate as separate networks; Alliance says both brands will play to their strengths.