Momo Tires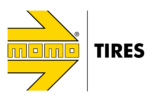 Long Business Description:
MOMO has always been synonymous with racing and the automobile industry, since it's conception in 1964. The only element the brand was missing was it's own tire production, so in 2012 one of the two biggest Italian companies in tire distribution launched the long-awaited MOMO-branded tires range into the market.
At present the tire production is available in over 66 Countries with the tires program including more than 400 sizes.
MOMO Tires are available on summer, winter, four season, run on flat, all terrain and high terrain pattern types, a range which can satisfy every market/client need. All the MOMO Tires products are now being developed and produced in regions of Europe, Indonesia and China.