Continental Tyre Group LTD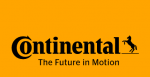 Company Name:
Continental Tyre Group LTD
Long Business Description:
Continental develops pioneering technologies and services for sustainable and connected mobility of people and their goods. The company is renowned  as a leading premium tyre manufacturer, Offering best in braking across all weather conditions. The German manufacturer is in fact much more than a tyre brand; also being one of the world's leading automotive suppliers, shaping the automotive landscape for a safer future. Founded in 1871, the technology company offers safe, efficient, intelligent and affordable solutions for vehicles, machines, traffic and transport. In 2017, Continental generated sales of €44 billion and currently employs more than 240,000 people in 61 countries.