Yokohama Rubber reports record business profit in 9-month 2022 figures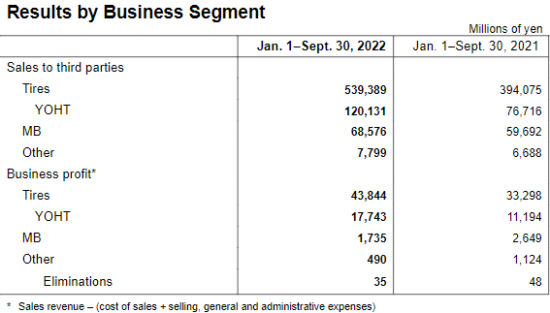 The Yokohama Rubber Co., Ltd. has reported nine-month 2022 financial results showing record profitability. Despite a 23.6 per cent decline in operating profit to 45.3 billion yen, Yokohama reported a 24.2 per cent increase in business profit, which amounted to 46.1 billion yen (£281.579 million; 321.040 million; US$330.998 million); and a 33.7 per cent increase in sales revenue, to 615.8 billion yen (£3.761 billion; 4.288 billion euros; $4.421 billion).
According to the company, Yokohama overcame the combined challenges of the pandemic and raw material headwinds with increased tyre sales in Japan and overseas, including increased off-highway tyres sales.
As automakers "began to redouble production output to compensate for earlier reductions", Yokohama's original equipment car and truck tyre sales revenue increased over the same period of the previous year. Yokohama also reported new fitments on vehicle models in North America. Those factors more than offset the adjustments in vehicle production volume necessitated by the global shortages of semiconductor devices and the adverse effect of Chinese lockdowns.
Yokohama also year-on-year sales growth its replacement tyre business. The Japanese market, for example, benefited from early-year snowfalls and the resultant "vigor" in sales of winter tyres. Similar impact was seen in North America, China and other Asian via the promotion of high-value-added products.
The company confirmed that it transferred the ATG (Alliance Tire Group) off-highway business to its Tires segment in the 2022 figures under the Yokohama Off-Highway Tires (YOHT) unit.