Virtual rib – GRI debuts Green XLR Earth 65+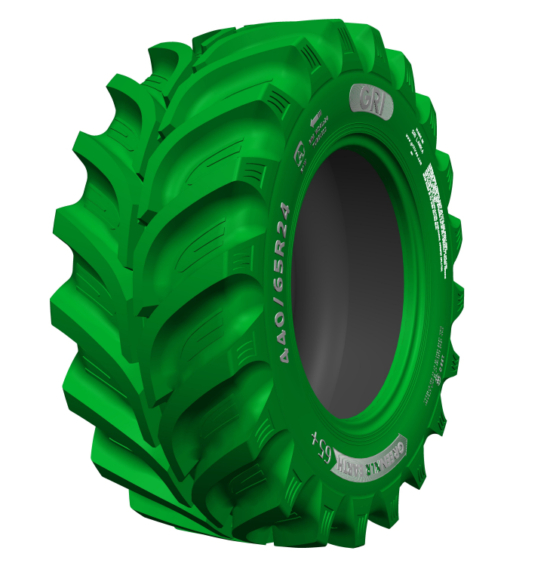 Amongst the new product launches at the SIMA 2022 exhibition is the GRI Green XLR Earth 65+, an agricultural tyre produced with 37.5 per cent sustainable materials. Following its debut at the Paris show between 6 and 10 November, GRI will bring the new range to market in early 2023.
According to GRI, the Green XLR Earth 65+ differs from other 65 series radial agricultural tyres in that its tread design creates a 'Virtual Rib'. This reportedly provides enhanced driving comfort both on- and off-road and improves steering precision and guidance for tractors at higher speeds. More importantly, GRI says it designed the curve of the lug angle at the centre for improved fuel efficiency and greater off-road traction to enhance tyre lifespan.
Well ahead of the game
"The ambition to innovate aggressively in the space of sustainability led specialty tyres continues to grow within GRI, owing to its significant positive impact on the environment, the farming community and society at large," comments Prabhash Subasinghe, managing director of GRI. "The feedback received so far by farmers who are currently testing the tyres on the field have further encouraged us to continue this trend of innovation. More and more, the future of specialty tyres will depend on the incorporation of earth friendly value propositions to help reduce the carbon footprint further. We are happy to have already begun this journey well ahead of the game."
Dr Mahesha Ranasoma, chief executive officer of GRI, adds: "The innovative tread design of the Green XLR Earth 65+ is borne out of extensive R&D and the virtual rib created as a result, is proving extremely beneficial in tests relating to performance and comfort for tractors used on farms. More importantly, it protects not just the soil, but also the future of generations to come. We are proud to be leading this mission in producing one of the world's first and most earth-friendly agriculture tyres, and we look forward to continuing to sustain this momentum we have created."
Like the Green XLR Earth Series introduced at the Farm Progress Show in Iowa, USA in August, the Green XLR Earth 65+ also includes bio-sourced, sustainable, and recycled materials. This tyre, which is also an earthy green colour, contains pure natural rubber, highly dispersible silica, recycled carbon black, and reclaimed rubber from used tyres. Natural, sustainable soybean oil has also been used instead of petroleum-based oil, and the carbon footprint has been reduced as it is produced using bio-sourced and recycled materials.