UK service sector must ramp up EV technician training – Autotech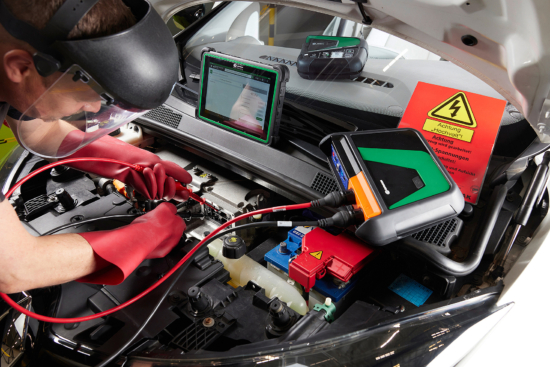 The freedom to service new vehicles was joined by another example of the sector's current need to evolve quickly at the NTDA Tyre Industry Conference 2022. Dave Walker, business development director, Autotech discussed the topic of training technicians to carry out services on electric and hybrid vehicles. Noting the speed of the new car market's move away from diesel (only around 5.5 per cent of new cars sold this year are diesel), and the growth of various flavours of electric car, Walker said that "only 15 per cent of UK technicians (around 32,900) are now qualified to work safely" on these vehicles. It is estimated that 90,000 technicians will be required by 2030 to work on EV/hybrid cars.
Aside from the level of servicing, the most pressing reason to need technicians to be fully qualified to work on current EVs and Hybrids is safety. These vehicles operate at up to 800 volts, Walker says, "a dangerous power level for under-trained technicians." The effect of being unprepared for EVs on businesses included: the safety of staff and customers; insurance implications for the garage as a more technical workspace; potential damage to vehicles due to lack of knowledge; and low staff confidence talking to customers.
Current EV/Hybrid training courses offer four levels of accreditation: Level 1 for general awareness and understanding; Level 2 covers isolation of high voltage vehicle; Level 3 gives technicians the knowledge to work safely on EV/Hybrid Vehicles; and Level 4 goes into live working and advanced diagnostics.
There are other aspects of EVs that garages will need to be aware of in order to prepare themselves for the rapid rise in EVs as a proportion of the car parc, Walker added. For example, EVs utilise brakes a lot less, with around 40 per cent of their braking motor-based. Therefore a reduction in demand for brakes seems likely, which has obvious business implications. Secondly, tyres fitted to EVs tend to wear out faster due to the weight and torque of vehicle. While specialist EV tyres are now appearing in the tyre market, there is a good chance that demand for replacement tyres will increase along with the rise of EVs.
Walker gave the conference some idea of how prevalent EVs have become when it comes to the demand for training. He said that "80 per cent" of Autotech enquiries and delivery is for EV/Hybrid Vehicle training courses. This includes work with accident investigation teams – he said the company had recently worked with West Yorkshire Police, for example. Walker exemplified the approach of future-conscious tyre servicers too: Autotech has trained one Eden Tyres technician in every branch to Level 2, as well as front desk staff in talking to customers. In 'n' Out Autocentres is also "getting ahead of the curve" with Autotech's EV/Hybrid Vehicle Training for its technicians. Walker warned that "the clock is ticking to get businesses ready for the 2030 cut-off for new ICE vehicles."